Find Self Storage Units
If you are looking for a portable storage unit for your construction site, more warehousing space, a storage container to provide long or temporary storage or a moving container, a steel storage container is the way to go.
More About Storage Containers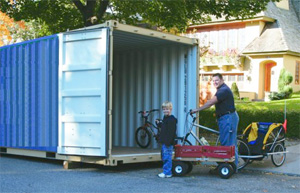 Cargo containers are usually the ones being rented for construction sites and places where materials are often being loaded and unloaded. These containers come in two standard sizes, 20' and 40' long.
ISO (International Standard Organization) steel conex containers are the norm and they should be equipped with a standard lock box for security, some companies offer additional side bolts for maximum protection.
Companies that rent this type of containers will store the container at their location and/or deliver it to a specified location. The diversity of commercial storage solutions that are being offer now a days, almost guarantee a suitable match for your business demands, whether is for long term or seasonal retail surplus.
If you are moving or remodeling your home, a steel container could be a feasible alternative for a mobile storage, especially if the container will be left without supervision for long periods of time. These type of steel containers come in a variety of sizes: 8' x 8-1/2' x 10' is good for a small home or apartment, 8' x 8-1/2' x 15' is good for a 1-2 bedroom home, 8' x 8-1/2' x 20' is good for a 2-3 bedroom home and the largest size will be an 8' x 8-1/2' x 24' is good for a 3-4 bedroom home. All this containers are weather tight.
When packing these containers, make sure you distribute the weight evenly, do not stack heave items together. Do not store groceries, vinyl records, candles, aerosol cans, flammables or hazardous chemicals, remember, it is a steel container and it will get hot inside during the day while exposed to the sun. Place blankets or bedding covers between large items of furniture to protect them from scratches.
Some companies go as far as converting these storage containers into mobile offices to your specifications. They are a good alternative to conventional offices as you don't have to deal with permits, stairs or tie downs. All you do is have the climate controlled container-office, customized to your specs, delivered to your site or workplace, step into it and be ready for business.