Self Storage Facilities & Self Storage Units in Chicago, IL.
Easily compare prices at 87 self storage facilities in
Chicago, IL .
Select from the results below to find cheap self storage units in your city.
Cheap self storage Units in Chicago, IL.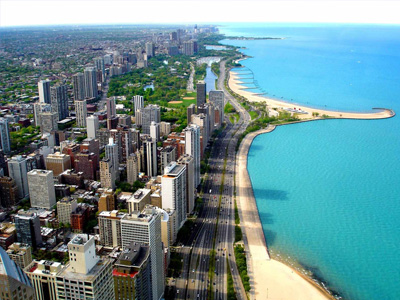 Chicago, IL is a great place to rent self storage units
Space is limited in many places and as the largest city in Illinois and the third most populous city in the Unites States, Chicago is no exception. With over 2.7 million residents, the need for self storage in Chicago is undeniable. Fortunately, there are many storage facilities in the area that make finding extra space to store belongings relatively easy.
If you take a tour of the city, you will see Chicago self storage facilities around Northwestern in Evanston, down Lake Shore Drive and over towards Midway. There are many options to choose from when searching for Chicago self storage. USSelfStorage.com makes it easy to locate self storage in Chicago and displays various amenities, such as climate controlled storage, facilities with 24-hour access, and truck availability.
You can search for Chicago self storage using the zip code or city search. USSelfStorage.com provides a simple, quick solution to choosing Chicago mini storage, public storage or mobile storage. Renting from a Chicago self storage facility has never been easier.
The vast number of storage units in the Windy City gives you flexibility to find the right self storage facility, price shop, rent on your own terms and research the companies in depth. There is no need to visit self storage facilities in Chicago in person in order to find the best deal. All the information is readily available at your fingertips at USSelfStorage.com.
Compare cheap self storage units, Chicago, IL with USSelfStorage.
Enter the city or zip code of your choice into the search bar to find the self-storage facility listings nearby. Once you locate the storage facility, compare storage unit sizes, prices, amenities and discounts. Check out pictures, descriptions, and read customer reviews to assist you when making a selection. Once you select the storage unit that best fits your needs, simply reserve online for free and lock in your price and discount. If you choose, you can call and speak to a friendly and professional customer service representative who could answer all your questions and who could take a reservation; no credit card is required to reserve a storage unit online or by phone. A detailed confirmation e-mail will be automatically forwarded to your inbox. Your storage unit will be available for you when you arrive at the storage facility on your selected move in date. It is that fast and easy.
First month free, $1 the first month, 50% off discounts, in Chicago, IL.
Storage facilities in Chicago, IL offer a variety of discounts to their customers. When searching for storage unit compare the price of the storage unit as well as the discount that storage facility is offering. Some storage facilities offer the same special on every storage unit they have in their inventory, while other facilities might offer different discounts on selective units in their inventory. Facility specials change from day to day, depending on the storage facility or on the occupancy of a particular unit at a given facility. Some storage facilities might not offer a discount on a storage unit or at their facility.
Storage prices in Chicago IL can vary based on unit size and amenities.
Self Storage unit prices in Chicago start as low as $18.00 per month. Typically a smaller storage unit on an upper floor or requires a rolling ladder to access. The most common storage unit sizes are 5' X5', 5' X 10', 10' X 10' and 10' X 20' and standard ceiling storage unit heights are 8 feet high and doors could vary in width from 3' to 8' feet wide. Whether the Chicago storage unit is climate controlled or a drive up storage unit, will also determine the price. Usually, storage units which are climate controlled, air conditioned are more expensive than drive up unit. You will also find that a lower floor or ground floor storage unit will run you typically more money that a unit that is an upper floor and would require elevator access.
Your Chicago IL self storage facility search has produced 150 locations.
Within 5 miles of your, Chicago storage search query we are showing 51 storage facilities. Within 25 miles of your, Chicago storage search query we are showing 176 storage facilities. Within 45 mile of your, Chicago storage search query we are showing 176 storage facilities.