Motorcycle Self-Storage
If you are not going to ride you motorcycle during the winter or are planning to store it for long periods of time, self-storage facilities have the space for you.
Motorcycle Storage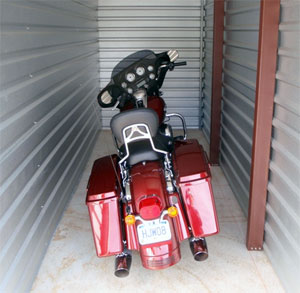 If you own a motorcycle, you know how important it is to keep your motorcycle safe and out of harm's way-especially during the off-season. Motorcycles that are kept outside or even under carports can be exposed to inclement weather and harsh, extreme temperatures. They can even become damaged by hail, strong winds, and strong thunderstorms. Even worse, they are easy targets for motorcycle thieves and vandals.
Even the casual motorcycle rider will need a safe and secure place to store their bike when not in use. A motorcycle self-storage unit is the ideal solution. With convenient, drive up spaces, you can store your motorcycle safely for the winter, yet still return on nice days to ride it!
Choosing the Right Motorcycle Storage Unit
A motorcycle can fit in any traditional unit measuring 10 feet deep of more, preferable an outside unit / drive up access. You'll want to ride it in for easy handling and if you plan to take it out from time to time or run the engine to keep all the internal parts working properly.
When considering storing your bike at a motorcycle storage facility, look for one that has climate controlled units. You don't want the temperature to change drastically from day to night. Changing temperatures can cause damage to many of the parts on your bike, including: rubber gaskets, plastic seals, fuel lines, and even the leather on your seats.
If your storage facility has only inside units, you still can store it there providing that you empty the tank of gas completely. This measure is taken to minimize the chances of fire hazards. Most facilities that have inside units with roll up doors will allow you to bring your motorcycle, providing you take the step mentioned above.
If you wish to upgrade your motorcycle or work on it during the off-season, it is important to choose a motorcycle storage unit that is large enough to hold both your motorcycle and your tools. In addition, be sure to give yourself enough elbowroom to work comfortably.
The ideal motorcycle storage unit will be one that is also the most secure. Be sure to inquire about security features, such as 24-hour cameras, electronic gated access, security guards, and adequate lighting.
Protecting Your Motorcycle During Storage
Here are a few steps you must take in order to protect your motorcycle during storage, especially if you will store it for the winter months:
Run the motorcycle for at least 30 minutes to get it to optimum temperature
Add some type of fuel stabilizer in the gas tank and top it off with gasoline
Change the oil, do it while it is still hot to get rid of a lot of the junk accumulated during your riding time
Wash it and wax it is possible, this will protect your paint
Lube the chain
Check that your tire is inflated to the maximum recommended pressure
Disconnect your battery and keep it in a low voltage charger
If you have a cover for your motorcycle, use it, it will protect your bike from dust and any outside moisture
Do not use a sheet or tarp to cover your bike, these will only exasperate the moisture retention and accelerate the rust or mold accumulation
Resist the temptation to run your engine while in storage, this will only leave moisture inside the engine which can cause problems later on, such as rust inside moving parts.
For summer storage, follow the same recommendations—especially if the bike will not be started at all for over two months.
Taking Your Motorcycle Out of Self-Storage
When the nice spring weather hits, resist the urge to take your bike out of storage quickly. Instead, plan a weekend to get your bike ready for the new riding season.
If you used a fuel stabilizer, your fuel should be in good shape. Open the filler cap and look inside for any type of gunk accumulation.
If you didn't change your oil before storage, now is the time to change the oil and the filter.
Check the batter leads for corrosion and reattach it to your bike.
Check your clutch, brake, and coolant levels. Now is the time to top off any fluids.
Check your tire pressure and your suspension. Make sure that there are no unusual cracks or stress marks on the tires or suspension.
Let your bike idle for several minutes before riding it. Plan to ride around to get reacquainted with the bike before hitting the open road.
Motorcycle Storage Units are Flexible
Many motorcycle storage facilities across the country have flexible storage fees and contracts. Determine how long you will need storage and plan accordingly. Discuss flexible contracts with your facility.
For example: Many motorcyclists routinely rent a storage unit from October – April every year. This ensures that their bike is protected during the cold snowy winter, yet accessible every spring and summer for riding. Other bikers choose to keep their bike in the storage unit year-round in order to free up valuable garage space for other hobbies and vehicles.
If you are considering a motorcycle storage unit, give us a call. Our storage specialists can help you determine which type of storage unit is best for you and your motorcycling needs.