Self Storage Facilities & Self Storage Units in Tampa, FL.
Easily compare prices at 35 self storage facilities in
Tampa, FL .
Select from the results below to find cheap self storage units in your city.
Cheap self storage Units in Tampa, FL.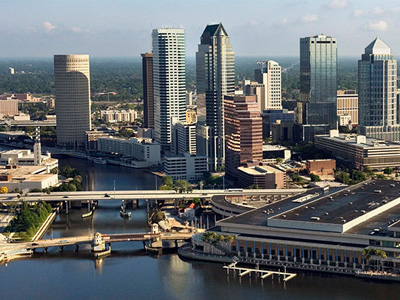 More about Tampa, FL:
Located in Florida, Tampa is the largest city in in Hillsborough County and as of 2011, has a population of nearly 350, 000 persons. It is the third most populous city in the state. Residents of Tampa do not have to worry about finding adequate space to store the belongings they accumulate over the years due to the wealth of self storage facilities in the city. The state of Florida is known for its sunshine and beaches and residents of Tampa have plenty of ample self storage units to stash away items that they need for the year-round sunshine and fantastic weather.
Tampa has several primary and secondary schools and is also home to the University of South Florida, which has over 46, 000 students — the eleventh highest enrollment in the United States. With this many college students in the area, self storage is particularly important since persons for out-of-state desperately need a convenient place to store their belongings. Self storage facilities in Tampa also provide discounts to college students and some may offer a free truck to help the moving process even easier. Students are encouraged to seek self storage before the end of the semester or school year in order to secure a unit. The rush for self storage usually occurs when students are moving back home for the semester breaks so it is best to start looking at units early to ensure to that you find the one that best suits your needs.
The warm climate in Tampa means that items are liable to be damaged by the sharp rises in the temperature that can occur at at point during the year. Persons should always explore climate-controlled options, which may come at a higher price, but provide added security and peace of mind. Climate-controlled units keep the unit at a set temperature so items are not affected by the external climate, which can get pretty warm during the summertime.
Tampa's economy is fueled by the retail, finance, insurance, shipping by air and sea, national defense, professional sports, tourism and real estate industries. The county of Hillsborough has over 740, 000 employees which is expected to increase to close to one million by the year 2015. With a large working population, business owners who are in need of extra space can seek out self storage in Tampa.
The city also has a variety of attractions that keep tourists coming throughout the year. These include Busch Gardens, American Victory, The Florida Aquarium, Tampa Theatre, and the Tampa Bay History Center. There is a lot of work involved in putting together these attractions and they also require many items to ensure that everything goes off without a hitch. The organizers of these attractions can always use self storage to put away items that are not in use at a particular time during the year.
In addition to regular self storage units, facilities in Tampa also offer mobile, vehicle, RV and boat storage. When renting self storage in Tampa, ask about a variety of amenities such as 24-hour access, on-site security and accessing the facility via a secure access card.
Compare cheap self storage units, Tampa, FL with USSelfStorage.
Enter the city or zip code of your choice into the search bar to find the self-storage facility listings nearby. Once you locate the storage facility, compare storage unit sizes, prices, amenities and discounts. Check out pictures, descriptions, and read customer reviews to assist you when making a selection. Once you select the storage unit that best fits your needs, simply reserve online for free and lock in your price and discount. If you choose, you can call and speak to a friendly and professional customer service representative who could answer all your questions and who could take a reservation; no credit card is required to reserve a storage unit online or by phone. A detailed confirmation e-mail will be automatically forwarded to your inbox. Your storage unit will be available for you when you arrive at the storage facility on your selected move in date. It is that fast and easy.
First month free, $1 the first month, 50% off discounts, in Tampa, FL.
Storage facilities in Tampa, FL offer a variety of discounts to their customers. When searching for storage unit compare the price of the storage unit as well as the discount that storage facility is offering. Some storage facilities offer the same special on every storage unit they have in their inventory, while other facilities might offer different discounts on selective units in their inventory. Facility specials change from day to day, depending on the storage facility or on the occupancy of a particular unit at a given facility. Some storage facilities might not offer a discount on a storage unit or at their facility.
Storage prices in Tampa FL can vary based on unit size and amenities.
Self Storage unit prices in Tampa start as low as $18.00 per month. Typically a smaller storage unit on an upper floor or requires a rolling ladder to access. The most common storage unit sizes are 5' X5', 5' X 10', 10' X 10' and 10' X 20' and standard ceiling storage unit heights are 8 feet high and doors could vary in width from 3' to 8' feet wide. Whether the Tampa storage unit is climate controlled or a drive up storage unit, will also determine the price. Usually, storage units which are climate controlled, air conditioned are more expensive than drive up unit. You will also find that a lower floor or ground floor storage unit will run you typically more money that a unit that is an upper floor and would require elevator access.
Your Tampa FL self storage facility search has produced 93 locations.
Within 5 miles of your, Tampa storage search query we are showing 17 storage facilities. Within 25 miles of your, Tampa storage search query we are showing 93 storage facilities. Within 45 mile of your, Tampa storage search query we are showing 93 storage facilities.