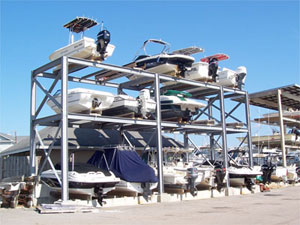 Boat Self Storage
Boating enthusiasts usually have to find a place to store their boats and other watercrafts during the off-season. Unless your boat is docked at the marina during the season, you probably need to tow your boat or watercraft to the water each and every time you use it. In between uses, however, you need a safe place to store your boat and keep it from harm. Keeping your boat outside in your yard or in your driveway, will not only take up space, but it will also expose your boat to the harmful effects of the sun and other elements. Fortunately, there are numerous options for storing your boat or watercraft.
If you are not going to be using your boat for long extended periods of time, you have several options for storing your boat: boat storage units, outdoor boat storage units, and dry racks. The dry storage yards can also offer RV storage or storage for any other type of vehicle. Some of these outside boat parking spaces are covered spaces with a roof to protect from direct contact with the sun. These covered parking spaces provide protection from the harmful effects of UV rays that can fade the exterior finishes of any boat.
Indoor Boat Storage Units
If your boat is not too large, you may be able to store your boat in an indoor boat storage unit. These units are relatively inexpensive, compared to keeping your boat docked at a marina, and they can be found in nearly every city and close to the water. Unfortunately, the largest size indoor storage unit is usually 10x30, so if your boat is long or too tall, this may not be your best option.
There are other facilities, however, that will allow you to store larger boats indoors. These boat storage locations often have a large warehouse that they will use to store larger boats. These boats are typically stored together and being inside the warehouse will keep them safe from the harmful elements, including precipitation and sun damage. These warehouses are perfect for larger boats or expensive boats that should not be kept outdoors in bad winter weather. Typically however, these warehouse spaces will cost significantly more than other options.
Outdoor Boat Storage Units
Numerous storage facilities offer outdoor boat storage spaces that are similar to parking spaces. You can cover your boat and keep it out of harm's way for long periods of time and during the off-season. Some are even covered with a roof to prevent sun damage and rain damage. This is probably one of the most economical ways to store your boat and is ideal for the boat owner who is on a budget.
Stack Storage and Dry Stack Storage
A new trend in boat storage is rack storage, where they are stored in large steel racks, sometimes four or five boats high. These racks are located outside but the trend is for them to be inside large sheds. The boats are hoisted with specialized fork trucks to their space or from their space to the water or trailer. Many marinas and other storage companies offer stack storage and dry stack storage for boats. Stack storage is usually outdoors, while dry stack storage is offered inside of a warehouse to protect the boats from the elements.
If you are planning to store your expensive boating investment for the season, special steps should be taken to protect it. As with car storage, you should change your oil and top off your gas tank. Disconnect or remove all electronic devices and the battery. Make sure you wash and wax the exterior and repair any dings or cracks, this little issues can become big headaches when you are ready to take your boat our in a few months.
Find Boat Storage By City: