Recreational Vehicle (RV) Self Storage
RV camping is a lot of fun, but when the time comes to store your RV, there are a lot of RV Storage options. They are better that storing your RV in front of your house or in your driveway. The choices for RV storage are as wide as there are types of RVs. From parking spaces in a storage facility to enclosed units with AC/heat and electricity.
RV Storage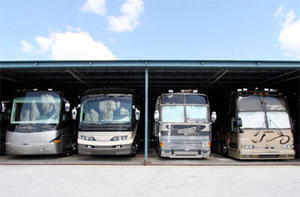 More and more families and retired couples are hitting the road in RVs and campers. After all, they are an ideal way to tour the country in style and are perfect for warm, summer months when the weather is clear. Yet during the winter and off-season, where can you store your RV to keep it safe from harm? Many neighborhoods and communities have strict rules preventing RV owners from storing their RVs in their driveways, garages, or in their yards. When this occurs, an RV storage unit is the ideal solution—offering a safe place to store your RV when not in use.
The average size of a recreational vehicle is between 18 feet and 25 feet in length. As such, you need a large storage unit that is specialized in fitting larger mobile homes, RVs, or campers of this size. While not all self-storage facilities offer this type of storage, many do.
Indoor RV Storage Spaces
There are not many indoor RV storage units, but they do exist. If your RV is especially large, you may not be able to find one in your area that is located indoors. If your RV is on the smaller side, however, you may be able to find an indoor storage unit that will hold your RV quite well. These units are typically between 12-15 feet wide and up to 50 feet in length. Indoor storage units are a lot more expensive than land lots, but ideal, if you want to protect your RV from damage and maximize its value.
Covered RV Parking Spaces & RV Land Lots
One of the most popular is a common covered RV parking space; it is a parking space with a roof. This type of storage protects your RV from rain and sun but not from wind. While this type of RV Storage does not have any amenities, it is an economical way to store your RV when not in use.
There are two basic types of covered RV storage, stand-alone canopies, and three-sided walled canopies. Three-sided canopies offer protection from the wind and from most damaging weather effects. It is a bit more expensive than a stand-alone canopy storage space, but it will protect your RV better.
The least expensive way to store your RV is an RV land lot. These lots are inexpensive because they are not covered. You are allowed to park your RV on the lot, in a parking spot. This allows you to take advantage of the facility's security features, such as private fencing, security cameras, and adequate lighting. While your RV will be protected from robbery and vandalism, it will still be exposed to the elements and extreme weather conditions.
Choosing The Right Unit for Your RV
Recreational vehicles, campers, and travel trailers come in a wide variety of sizes and shapes. As such, it is important to measure your RV carefully to ensure that you are choosing a unit that will suit your needs fully. If you are choosing an indoor storage unit, then it is even more important to know the exact dimensions of your RV prior to renting a space.
Prepare Your RV for Storage
When ready to rent a space, make sure to take your proof of ownership and insurance, you will need them before signing your lease. If you choose the common area storage, take pictures of your RV and make sure your insurance company covers your RV while in storage. If your insurance policy does not cover theft or damage, you may want to consider buying another policy.
Do not store your RV on grassy surfaces, gravel or dirt, it will only invite pesky creatures to take residence in your home away from home, and remember to keep the area around it clean.
Remove any electronics, liquid, and food.
If storing during winter in cold temperatures, winterize your RV, drain the water heater tank and all water housed and run antifreeze through the entire system, this will prevent them from freezing.
Inspect the battery and disconnect the negative cable on your battery. If your area freezes during the winter, remove your battery entirely and store the battery at room temperature.
Empty the toilet and water heater
Close off the gas tank
Change or top off your oil, radiator, windshield wiper fluid, and brake fluid
If your RV is going to be sitting still for months at a time, consider taking off the tires to prevent flat spots from forming. Set your RV up on jacks or blocks to extend the life of your tires
Get an RV cover to protect your RV from dust, sun damage, hail, and animal debris
Ultimately, what type of storage best suits you will depend on your preferences. If you go RV camping very often, or need immediate access to your RV, home storage may be better. If you take long breaks and only go RV camping a couple of times a year, it may be better to store it. Either way, make sure whatever RV storage unit you choose best suites your needs.