• Reserve for FREE in 2 minutes. • No credit card required. • Best prices and specials online.
Public Storage Units Near Jersey City
Reserve Cheap Storage Units Jersey City, NJ for Free in 2 Minutes.

View 302 Storage Facilities Near Jersey City, NJ
1

miles away
1

miles away
1

miles away
1

miles away
Extra Space Storage
Jersey City ‐ 69 Mallory Ave
Discount:

UP TO 50% OFF AND FIRST MONTH FREE
1

miles away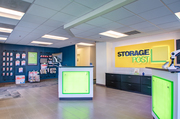 1

miles away
1

miles away
1

miles away
1

miles away
1

miles away
Self-Storage Facilities near Jersey City, NJ
Compare storage facility prices, specials, photos and reviews. Reserve a storage unit for FREE in 2 minutes
Cheap Storage Units Jersey City, NJ.
Compare public storage Jersey City, NJ. Reserve cheap self storage units, Jersey City, NJ for FREE, in 2 minutes, online or by phone with USSelfStorage.com
New Jersey is a great place to rent self storage units and you will find that the most populated cities in New Jersey like Newark, Jersey City, Paterson, Elizabeth and Cherry Hill, will provide you with the best selection. In these cities you will find sometimes hundreds of storage facilities within city limits. Rent your extra space storage units Jersey City for free at these facilities and get great service and savings.
Find a Jersey City storage facility, compare Jersey City storage unit sizes, prices, amenities and discounts. View pictures, descriptions, and read customer reviews to assist you in making a selection. Once you select the public storage unit in Jersey City that best fits your needs, simply reserve online for free and lock in your storage unit price, save money and time. If you prefer, you can call and speak to a friendly and professional customer service representative, who could answer all your questions and who could take a reservation over the phone for free. No credit card is required to reserve storage units in Jersey City online or by phone. A detailed confirmation e-mail will be automatically forwarded to your inbox. Your storage unit will be available for you when you arrive at the self-storage facility on your move in date. Finding public storage In Jersey City, or in nearby cities located in Hoboken, Secaucus, Bayonne or in West New York is that fast, easy and affordable.
FIRST MONTH FREE, $1 the first month, 50% off discounts for self storage in Jersey City, NJ.
Public Storage facilities in Jersey City, NJ offer a variety of discounts to their customers. When searching for storage units Jersey City, compare the price of the public storage unit as well as the discount that storage facility is offering on that unit. Some self storage facilities offer the same special on every storage unit they have in their inventory, while other facilities might offer different specials on selective storage units in their inventory. Jersey City storage facility specials change from day to day, depending on the storage facilities occupancy of a particular storage unit at that given time. Some storage facilities might not offer a discount on a storage unit.
Compare Storage Prices in Jersey City, NJ.
Cheap Self Storage unit prices in Jersey City start at $0.00/month. First month FREE, $1 first month and other monthly specials are commonly offered by the storage facility and you could reserve FREE. The most common storage unit sizes are 5' X 5', 5' X 10', 10' X 10' and 10' X 20'. Standard ceiling storage unit heights are 8 feet high and doors vary in width from 3' to 8' feet wide, depending on the unit size.
Whether a unit is climate controlled or a drive up, will determine the price. Usually, storage units which are climate controlled, air conditioned units, are more expensive than drive up units accessible from the outside.
Your search results have produced 302 public storage locations in Jersey City.
Within 5 miles of your Jersey City storage search query we are showing 25 storage facilities. Within 25 miles of your Jersey City storage search query we are showing 265 storage facilities. Whether you are moving and need storage, looking to free up more space in your home or business, or to use storage for any other use you see fit. Enter your zip code, address or city to find the best storage unit, the best price, the best discount, and only takes 2 minutes to reserve for free.
Jersey City, NJ is a great place to rent self storage units.
Second only to Newark in population, Jersey City is one of the most populous communities in New Jersey. With the Hudson River on the east, Upper New York Bay on the West and both the Newark Bay and Hackensack River on the west, Jersey City is nearly entirely surrounded by water. This makes it a popular location both for trade reasons and for recreation.
Jersey City is located within minutes of Elizabeth, Newark and the thriving metropolis of New York City. This makes it a popular place to live, work and play. Many of the people who find themselves drawn to Jersey City end up settling in the 07305, 07306, 07307, 07304 and 07302 zip codes.
Jersey City is well known for its strong economy, which is not surprising with its location on major waterways and near some of America's most economically important cities. It has a thriving shopping scene, with popular and upscale retailers throughout as well as the Newport Mall. The Urban Enterprise Zone which runs through portions of the city makes shopping a bit more affordable with a lower sales tax rate, and this continues to draw retailers to the city. Add to this the headquarters of several companies in and near Jersey City, and you have a community that draws many because of its varied and unique opportunities.
Life here is not all work, though. Jersey City has a large art scene, with one of the highest percentages of artists-in-residence in the country. It is also home to several art and culture-based attractions, such as the Jersey City Museum and the Hudson Shakespeare Company. The waterways around Jersey City provide their own share of recreational opportunities, from boating to fishing to cruising. When you are ready to store your boat, fishing gear or art supplies, we can connect you with a local self-storage option to help.
If you are considering making the move to Jersey City, be ready to embrace an energetic, welcoming city. You will be able to benefit from the friendly community, business and economic opportunities and recreational options of this thriving metropolis. Our partnerships with local moving and self storage companies will make it easy to handle the details of your move.
Find cheap self-storage options in Jersey City, NJ with USSelfStorage.com
Because Jersey City is a very urban area, most families live in lofts, apartments and condos. Single-family homes are difficult to find in this packed area. For this reason, storage space is at a premium, creating the need for self storage. Whether you are storing recreational vehicles, seasonal decorations or even business supplies, you need convenient and affordable storage close to home. USSelfStorage.com is here to help you compare the different storage options in your area, so you can find the right one for your needs.
Whether you are searching for traditional self-storage, climate-controlled storage or vehicle storage, we give you the ability to easily compare your options. Simply input the zip code or city where you need storage, and we will show you your options to compare side-by-side. Then, book online over the phone, with no credit card required, and start enjoying the benefits of self storage in Jersey City, NJ.