Top 2 Storage Facilities Near Des Moines, IA
Compare storage units prices and monthly specials
1

miles away
CubeSmart - West Des Moines
2001 Grand Ave
West Des Moines
,
IA
50265
Month to month rentals
No long term commitment
No credit card required
FREE cancelation
Discount:

35% OFF
Online Only Price:
Storage Units as low as
$38.16 per month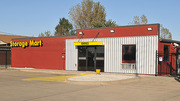 1

miles away
Find Vehicle Storage Near Des Moines, IA
Compare storage facility prices, specials, photos and reviews. Reserve a storage unit for FREE in 2 minutes
Cheap Vehicle Storage Units Des Moines, IA.
Compare parking storage in Des Moines, IA. Reserve cheap vehicle storage for FREE online or by phone with U.S. Self Storage.
Find Des Moines vehicle storage near you. Compare Des Moines vehicle storage parking prices, sizes, amenities, and discounts. View pictures, descriptions, and read customer reviews to assist you in making a selection when looking for a location to store your automobile. Once you select a cheap vehicle storage space in Des Moines that best fits your needs, simply reserve online for FREE and lock in your car storage price, save money and time. If you prefer, you can call and speak to a friendly and professional customer service representative, who could answer all your questions and who could take a reservation over the phone for FREE. No credit card is required to reserve vehicle storage in Des Moines online or by phone. A detailed confirmation e-mail will be automatically forwarded to your inbox. Your storage space will be available for you when you arrive at the self-storage facility on your move in date. 
Whether you are finding parking storage near you for your vehicle in Des Moines, or in other  vehicle storage locations near you like West Des Moines, Johnston, West Des Moines or Windsor Heights it is fast, easy and affordable to rent a storage place for your car, boat, truck, rv, trailer or camper with U.S. Self Storage.
First month free, $1 the first month, 50% off discount vehicle storage in Des Moines, IA.
Self-storage facilities for vehicles in Des Moines, IA offer a variety of discounts to their customers. When searching for storage places for your vehicle in Des Moines, compare the storage locations prices. as well as their discounts that they are offering at the Des Moines storage facility to best store your vehicle. Some self-storage facilities in Des Moines offer the same special on every vehicle storage parking space they have at their storage facility, while other facilities might offer different specials on select auto storage units in their storage location. Des Moines storage facility specials change from day to day, depending on the storage facilities supply and demand, so reserve a monthly parking near you for free in advance. Due a very high occupancy or limited availability some storage facilities might not offer a discount on vehicle storage. 
Vehicle Storage Storage for rent in Des Moines, IA. Prices can vary based on storage unit sizes and it's amenities.
Vehicle Storage in Des Moines start as low as $9.99 per month. Typically, outside uncovered storage parking is less expensive and is typically located around the outside perimeter of the storage facility building. You will find that covered vehicle storage or enclosed vehicle storage monthly cost will be more. The most common sizes for vehicle storage in Des Moines are 10' X 15' and 10' X 20' and 10' X 30, they are usually covered or uncovered and accommodate parking for cars, boats, trailers, campers, and RVs. Enclosed drive up motorcycle storage units, jet ski storage units, wave runner storage units and ATV storage unit sizes are typically  5' X 10', 7' X 10' and 10' X 10'. 
The search results have produced 2 cheap vehicle storage facilities in Des Moines, IA.
Within 5 miles of your Des Moines vehicle storage search query, we are showing 0 vehicle storage facilities. Within 25 miles of your Des Moines vehicle storage search query, we are showing 2 vehicle storage facilities. If you would like to narrow your search result, enter your zip code in storage near you field to find the best storage facility.
Frequently Asked Questions
Where could I find the best vehicle storage in Des Moines?
To search for vehicle storage facilities in Des Moines enter your city or zip code in the search bar on U.S. Self Storage. Look into a location that is close to where you live or work and for a monthly discount that the storage facility is offering.
How much does it cost to rent a vehicle storage in Des Moines, IA?
The larger the vehicle the more it will cost, an increase in demand in the city or zip code will also determine the price. An uncovered parking space will be less expensive than a covered or enclosed storage space. Search U.S. Self Storage to find the right type, size and price.
What are the various types of Self Storage for your vehicle in Des Moines?
The are three types of storage spaces for your vehicle: an enclosed drive up storage unit, a covered parking space and an uncovered parking space. Find the vehicle storage type that best fits your need on U.S.Self Storage.
Could a 5 X 10 enclosed storage unit fit a vehicle?
A 5 X 10 storage unit can not store a vehicle. However, a 5 X 10 drive up storage unit will be suitable for a motorcycle, scooter, jet ski or small trailer.
What size storage space do I need to store a vehicle in Des Moines?
A storage unit needs to be at a minimum 10 x 15 feet to store an automobile, however, a 10 X 20 would probably be a better size. Measure the width and length of your automobile prior to renting a storage unit with U.S.Self Storage for your vehicle.
How long could I store my vehicle in Des Moines?
You could store your vehicle for a month or as long as you want. Prior to storing your vehicle it is important to look into steps and tips on U.S. Self Storage; for example starting your vehicle frequently and covering your vehicle.
What is the length of a vehicle?
Automobile models fluctuate in their size. However, a common vehicle is approximately 15 feet in length. Smaller more economical vehicles are closer to 10 feet in length. Find the storage that fits your vehicle's length with U.S. Self Storage.
Des Moines, IA is a great place to rent vehicle storage units.
As Iowa's most populous state, Des Moines offers many opportunities for those who live and work within its boundaries. Here, over 203,000 people enjoy strong economic opportunities along the Des Moines River, with the financial services and insurance industries offering the greatest number of opportunities to area residents. In fact, Des Moines has been called the top spot in the country for U.S. insurance companies, as well as the insurance capital of the world.
Many professionals find themselves drawn to Des Moines as well as the communities of Windsor Heights, Johnston and West Des Moines to take advantage of these opportunities. Beautiful homes and condos in the 50317, 50315, 50310, 50320 and 50313 area codes make life here comfortable.
Yet life in Des Moines and the surrounding areas is not just about work. Recreation in Des Moines includes everything from arts and culture to outdoor recreation and fun on the river. With a city symphony, opera and ballet, cultural opportunities are abundant, and many people will send their weekends enjoy live art performances. The location on the banks of the Des Moines Rive means fishing, boating and picnics on the river are a common occurrence as well. Self storage units and vehicle storage facilities provide a place to stash outdoor recreational supplies when they are not needed.
As stated before, the insurance industry is one of the major players in the Des Moines economy, and several important companies have their headquarters in the community, providing work opportunities for a number of people. Sometimes, those companies find that they need storage for documents and supplies in order to make the best use of their on-site facilities to serve customers. Climate-controlled storage ensures crucial documents are kept safe and accessible without clogging up the office with file cabinets.
If work, recreation or family are drawing you to Des Moines, you may need a self storage facility to store your things temporarily during your move. We work with local moving companies and self storage facilities to help you find the right location. Let us help you make the move to Des Moines as smooth as possible.
Find Cheap Self Storage in Des Moines with USSelfStorage.com
If you are in need of cheap self storage options, comparing different options side-by-side saves you time and frustration. USSelfStorage.com is a free service that allows you to search for self storage units by zip code or city, then compare Des Moines self storage options side-by-side, helping you narrow down your choices until you find the right one for your needs. You can even find the new customer specials these companies are offering, allowing you to choose the most affordable option. Then, once you have made your choice, book conveniently online without the need to visit the facility in person. Get started on your search today and find cheap self storage options conveniently located in Des Moines and the surrounding areas.
Search zip codes for vehicle storage units in Des Moines, IA
Search for other vehicle storage units in Des Moines, IA