Climate Controlled Self Storage Units in Phoenix, AZ.
Easily compare prices at
33

self storage facilities in

Phoenix, AZ .




Select from the results below to find cheap self storage units in your city.
Climate Controlled Storage Units in a Nutshell.
Here's what you need to know about climate controlled units in Phoenix, AZ.
It protects your valuable belongings from damage due to extremes in temperature.
Oftentimes, humidity is also lowered, as is the risk of pests and flooding.
They are ideal for antiques, wooden furniture, and musical instruments.
The goal temperature range varies by company.
They do cost about 25% more, but peace of mind is priceless.
Always verify the exact definition of climate controlled storage before renting.
What Temperature Are the Self Storage Units Kept At?
On average, climate controlled self-storage in Phoenix, AZ mean that the unit is kept between 55 and 85 degrees. At this temperature, most valuable items, including irreplaceable paintings and antiques, will remain in pristine condition. However, every storage company has a different definition of what climate controlled storage actually means, and they have various ways of maintaining these temperatures. It is crucial to always get, in writing, the specifics for the company you are renting from.
How is the Temperature Controlled?
For most climate controlled storage units, the temperature can easily be maintained thanks to three factors:
The location of the unit (indoors, no outside access)
The construction (more durable, often metal)
HVAC setups (for the entire complex, usually not in single units)
What Else Will a Climate Controlled Unit Prevent?
Most units that offer this feature only monitor temperatures; however, as a result of the controlled temperature, humidity is also affected. Additionally, thanks to the location and construction, most climate controlled units will also experience a decrease in possible vermin and pests. Since the unit is likely fortified with metal, it will be impenetrable to termites. And because the self storage units are located indoors, the chances of spiders and mice making a home in them goes down dramatically. And finally, due to the heavy-duty roofs and raised floors that most climate controlled storage units have, there is probably not going to be any damage due to the elements.
Why Should I Get One Over Regular Self Storage Units?
If you are storing antiques, wood furniture, fine art, musical instruments, or anything else prone to damage due to temperature extremes, a controlled unit is a good idea. In regular self storage units, the temperatures can vary from below freezing to over 100 degrees, which can lead to cracking, melting, and many other situations that will undoubtedly lower the value of your belongings.
Do I Really Need a Climate Controlled Storage Unit in Phoenix, AZ?
Unless you have expensive, irreplaceable items, you can probably get away with renting a basic self storage unit. That being said, if you are the slightest bit worried about anything you are putting in your unit, peace of mind is truly priceless. Do you really want to take the chance with a basic unit? Probably not.
Cheap self storage Units in Phoenix, AZ.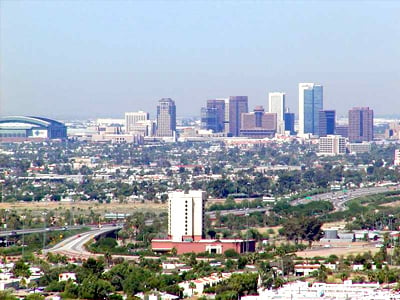 More about Phoenix, AZ:
Phoenix might be one of the largest cities in the U.S. but there is still limited space for its nearly 1.5 million residents. Renters and homeowners are always keeping an eye out for extra space. Luckily, there are numerous self storage facilities conveniently located all throughout the city of Phoenix. People looking to rent self storage in Phoenix can search USSelfStorageLocator.com's wide array of listings in order to find a facility that best suits their needs.
If you're looking for self storage for your business or personal use, there are a vast number of self storage facilities in Phoenix to choose from. From Glendale to Scottsdale, there are many self storage facilities with amenities such as drive-up units, truck rental, 24 hour video surveillance, and state of the art security. If you are buying or selling property, it is critical to find a self storage unit in Phoenix that will last through the entire sale or purchase process and USSelfStorageLocator.com can help.
Vehicle storage is available for those who might have an extra car, climate controlled storage for the hotter and colder months, and convenient mobile storage to adapt to your needs. You can rent a self storage unit in Phoenix online, check amenities and speak to someone about your rental without even leaving the house. Renting self storage online has never been easier.
College students can also find low cost truck rentals to fit a tight budget. Some self storage facilities in Phoenix also offer special discounts to university students. Search using a zip code to find a self storage facility within the shortest distance to lessen the need to travel very far. Whether you are looking for boat and RV storage or a unit with 24-hour access in Phoenix, USSelfStorageLocator.com can help you to find it.
Compare cheap self storage units, Phoenix, AZ with USSelfStorage.
Enter the city or zip code of your choice into the search bar to find the self-storage facility listings nearby. Once you locate the storage facility, compare storage unit sizes, prices, amenities and discounts. Check out pictures, descriptions, and read customer reviews to assist you when making a selection. Once you select the storage unit that best fits your needs, simply reserve online for free and lock in your price and discount. If you choose, you can call and speak to a friendly and professional customer service representative who could answer all your questions and who could take a reservation; no credit card is required to reserve a storage unit online or by phone. A detailed confirmation e-mail will be automatically forwarded to your inbox. Your storage unit will be available for you when you arrive at the storage facility on your selected move in date. It is that fast and easy.
First month free, $1 the first month, 50% off discounts, in Phoenix, AZ.
Storage facilities in Phoenix, AZ offer a variety of discounts to their customers. When searching for storage unit compare the price of the storage unit as well as the discount that storage facility is offering. Some storage facilities offer the same special on every storage unit they have in their inventory, while other facilities might offer different discounts on selective units in their inventory. Facility specials change from day to day, depending on the storage facility or on the occupancy of a particular unit at a given facility. Some storage facilities might not offer a discount on a storage unit or at their facility.
Storage prices in Phoenix AZ can vary based on unit size and amenities.
Self Storage unit prices in Phoenix start as low as $30.00 per month. Typically a smaller storage unit on an upper floor or requires a rolling ladder to access. The most common storage unit sizes are 5' X5', 5' X 10', 10' X 10' and 10' X 20' and standard ceiling storage unit heights are 8 feet high and doors could vary in width from 3' to 8' feet wide. Whether the Phoenix storage unit is climate controlled or a drive up storage unit, will also determine the price. Usually, storage units which are climate controlled, air conditioned are more expensive than drive up unit. You will also find that a lower floor or ground floor storage unit will run you typically more money that a unit that is an upper floor and would require elevator access.
Your Phoenix AZ self storage facility search has produced 33 locations.
Within 5 miles of your, Phoenix storage search query we are showing 5 storage facilities. Within 25 miles of your, Phoenix storage search query we are showing 33 storage facilities. Within 45 mile of your, Phoenix storage search query we are showing 33 storage facilities.