Reserve for FREE in 2 minutes. No credit card required. Best prices and specials online.
Public Storage Units Near Durham
Reserve Cheap Storage Units Durham, NC for Free in 2 Minutes.

View 61 storage facilities. Durham Storage Units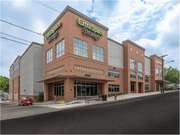 No long-term commitment
No credit card required
UP TO 50% OFF AND FIRST MONTH FREE
3724 Durham-Chapel Hill Blvd,
1

miles away
No long-term commitment
No credit card required
UP TO 50% OFF AND FIRST MONTH FREE
Best Self-Storage Durham, NC
Compare storage facility prices, specials, photos and reviews. Reserve a storage unit for FREE in 2 minutes
Cheap Self Storage Units Durham, NC.
Compare public storage Durham, NC. Reserve cheap self-storage units, Durham, NC for FREE, in 2 minutes, online or by phone with USSelfStorage.com
North Carolina is a great place to rent self-storage units and you will find that the most populated cities in North Carolina like Charlotte, Raleigh, Greensboro and Winston-Salem, will provide you with the best selection. In these cities you will find sometimes hundreds of storage facilities within city limits. Rent your extra space storage units Durham for free at these facilities and get great service and savings.
Find a Durham storage facility, compare Durham storage unit sizes, prices, amenities and discounts. View pictures, descriptions, and read customer reviews to assist you in making a selection. Once you select the public storage unit in Durham that best fits your needs, simply reserve online for free and lock in your storage unit price, save money and time. If you prefer, you can call and speak to a friendly and professional customer service representative, who could answer all your questions and who could take a reservation over the phone for free. No credit card is required to reserve storage units in Durham online or by phone. A detailed confirmation e-mail will be automatically forwarded to your inbox. Your storage unit will be available for you when you arrive at the self-storage facility on your move in date. Finding public storage In Durham, or in nearby cities located in Chapel Hill, Carrboro, Morrisville or in Cary is that fast, easy and affordable.
FIRST MONTH FREE, $1 the first month, 50% off discounts for self storage in Durham, NC.
Public Storage facilities in Durham, NC offer a variety of discounts to their customers. When searching for storage units Durham, compare the price of the public storage unit as well as the discount that storage facility is offering on that unit. Some self-storage facilities offer the same special on every storage unit they have in their inventory, while other facilities might offer different specials on selective storage units in their inventory. Durham storage facility specials change from day to day, depending on the storage facilities occupancy of a particular storage unit at that given time. Some storage facilities might not offer a discount on a storage unit.
Storage for rent in Durham, NC. Prices can vary based on storage unit sizes and it's amenities.
Self-Storage unit prices in Durham start as low as $6.00 per month. Typically smaller storage units, also known as mini storage units or storage lockers, are less expensive and are located on an upper floor or are stacked above another unit, requiring a rolling ladder to access the storage space. You will also find that a lower floor or ground floor storage unit will typically cost you more money than a unit that is an upper floor that would require elevator access. The most common storage units are 5' X 5', 5' X 10', 10' X 10' and 10' X 20' and standard ceiling storage unit heights are 8 feet high. Storage unit doors could vary in width from 3' to 8' feet wide depending on unit size.
Whether a unit is climate controlled or a drive up, will determine the price. Usually, storage units which are climate controlled, air conditioned units, are more expensive than drive up units accessible from the outside.
Your search results have produced 61 public storage locations in Durham.
Within 5 miles of your Durham storage search query we are showing 7 storage facilities. Within 25 miles of your Durham storage search query we are showing 57 storage facilities. Whether you are moving and need storage, looking to free up more space in your home or business, or to use storage for any other use you see fit. Enter your zip code, address or city to find the best storage unit, the best price, the best discount, and only takes 2 minutes to reserve for free.
Durham, NC is a great place to rent self-storage units.
With a growing business culture and Duke University at its center, Durham, NC is the place to be. Located close to Raleigh, Morrisville and Cary, Durham draws everyone from students and professors who wish to enjoy the offerings at Duke to business professionals who want to have easy access to the Triangle region of North Carolina. For people of all demographics, self-storage can make enjoying Durham just a little easier.
Durham has many distinct districts and neighborhood, from its vibrant downtown to the University area. Many of the residential communities are found in the 27713, 27707, 27703, 27705 and 27704 zip codes, but comfortable neighborhoods, trendy condos and urban apartments can be found all throughout the city. Because it is an urban area, many homes are condo or apartment homes, which makes the need for convenient self-storage even more intense.
Duke University is a central part of Durham, and it brings a number of seasonal residents who come for the school year and leave for the summer. These individuals need a place to store their stuff when they leave after the college semester, and self-storage meets that need well. The city boasts self-storage units of all types, including climate controlled storage and vehicle storage that are ideal for seasonal residents who want to protect their belongings when they are not in town enjoying them.
Durham has its share of fun things to see and do, so students and professionals who live in the community always have something interesting to experience. Much of the entertainment is found at the school, where residents cheer on the Blue Devils, enjoy cultural experiences and concerts and take in art from the students. Durham also has a diverse local music culture, and residents can enjoy everything from bluegrass to true rock and roll from popular local bands.
For those making the move to Durham, the right self-storage facility can make the moving process a little less stressful by providing a place to store belongings in between homes securely. USSelfStorage.com partners with local movers to provide this service to remove just a little of the stress of moving.
Locate Cheap Self-Storage with USSelfStorage.com
Finding self-storage in Durham that is convenient to your location is not always easy, but USSelfStorage.com makes it simple. Input your zip code into the search tool, and you will be shown local Durham self-storage units and their prices and features, including many discounts designed for first-time customers. Find the unit that fits your needs and budget, then book conveniently online. You will receive an email that tells you how to claim the unit, making it simple to find the right storage unit at the right price in the competitive Durham market. Start your search today with USSelfStorage.com, and lock in your discounted price.