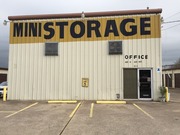 Houston Mini Storage
12841South Main

,

houston

,

TX

77035
Houston Mini Storage
Houston Mini Storage has been in business for over thirty years offering self storage services in Houston Texas. Renting space and customer service is our job. We try to show our clients several sizes because we want them to use the least amount of space so it will save money. We care about security so we are completely fenced and we sell locks that are very hard to break. Each facility has numerous video cameras. Most of our facilities have live on-site managers. Please contact us with any questions you may have. You can call any of our locations. Get the telephone numbers and addresses by clicking HERE
Facility Hours
Office Hours
Mon

:

09:00 AM - 05:30 PM

Tue

:

09:00 AM - 05:30 PM

Wed

:

09:00 AM - 05:30 PM

Thu

:

09:00 AM - 05:30 PM

Fri

:

09:00 AM - 05:30 PM

Sat

:

09:00 AM - 02:00 PM

Sun

:

CLOSED
Access Hours
Mon

:

07:00 AM - 07:00 PM

Tue

:

07:00 AM - 07:00 PM

Wed

:

07:00 AM - 07:00 PM

Thu

:

07:00 AM - 07:00 PM

Fri

:

07:00 AM - 07:00 PM

Sat

:

07:00 AM - 07:00 PM

Sun

:

07:00 AM - 07:00 PM
Facility Amenities
Cash Accepted
Checks Accepted
Credit Cards Accepted
Military / Student Discount
Moving Supplies
Online Payments
On-Site Manager
Title Must Match Renter
Vehicle Required Title
Vehicle Requires Insurance
Vehicle Requires Registration
Cameras
Keypad Gate Access
Fenced and Lighted
Handcarts and Dollies
Onsite Manager
Online Bill Pay
Automatic Payments
Facility Description
Houston Mini Storage
Houston Mini Storage has been in business for over thirty years offering self storage services in Houston Texas.
Renting space and customer service is our job. We try to show our clients several sizes because we want them to use the least amount of space so it will save money.
We care about security so we are completely fenced and we sell locks that are very hard to break. Each facility has numerous video cameras. Most of our facilities have live on-site managers.
Please contact us with any questions you may have.
You can call any of our locations. Get the telephone numbers and addresses by clicking HERE
Facility Reviews
Post your review so other people like yourself will benefit. Let others know of your self-storage experience.
No reviews yet. Be the first!