Reserve for FREE in 2 minutes. No credit card required. Best prices and specials online.
Public Storage Units Near Rapids City
Reserve Cheap Storage Units Rapids City, IL for Free in 2 Minutes.

View 1 storage facilities. Rapids City Storage Units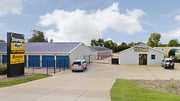 No long-term commitment
No credit card required
Best Self-Storage Rapids City, IL
Compare storage facility prices, specials, photos and reviews. Reserve a storage unit for FREE in 2 minutes
Drive-Up Access Storage in a Rapids City, IL
Here's what you need to know about drive-up access storage units in Rapids City, IL.
Makes it easy to load and unload your storage unit
The wide access points allows room for large trucks to deliver goods
Available in a variety of sizes to accommodate all needs
Eliminates many of the hassles of moving large items
Great for storing appliances, lawn mowers, and small engine vehicles
What is Drive-Up Access storage units?
Cheap Drive up access self storage units in Rapids City, IL, drive up access storage units Le Claire, drive up access storage units Port Byron, drive up access storage units Hampton or drive up access storage units Pleasant Valley are essentially like a house garage. They sit flush with the ground and allow you to drive right up to the entry door for easy loading and unloading. Most of them have roll-up doors and they come in a variety of sizes, ranging from small units measuring 5 x 5 feet to extra large units measuring 10 x 30 feet or beyond. Even though these drive-up access units are susceptible to the elements and are usually not climate controlled, they are perfect for items that you would regularly store in a home garage.
What are the Benefits of a Drive-Up Access Unit in Rapids City, IL
The most obvious benefit of a storage unit with drive-up access near Rapids City, IL is the ability for you to drive right up to it. Instead of having to maneuver your belongings through hallways or up stairs, you simply have to carry them from the back of your vehicle right into the drive-up self storage unit. This will save you a lot of time and effort. Not to mention, the roll-up doors allow for maximum storage space. Most drive up storage units also have wide roadways leading up to them, allowing even a semi truck direct access to the unit.
Who is Drive-Up Access Storage Units For?
While a storage unit with outside access near Rapids City is a great choice for anyone looking for an easy load/unload process, it is especially recommended for anyone storing substantial items, like appliances, heavy-duty equipment, and outdoor supplies. Anyone who wishes they had extra space storage to use for business meetings, as a workout room, or to store excess items and holiday decorations would benefit greatly from the direct access these units provide. Since most of the drive-up access units can actually be driven into, they are also ideal for people looking to store vehicles, including motorcycles, boats, and even cars.
Is It a Good Idea for Me to Rent a Drive-up Access Storage Unit?
If you feel like you could benefit from having an extra garage at your home, then a self-storage unit with drive-up access in Rapids City, IL may be perfect for you. Use it as a workspace for your next project, an offsite home gym, or as a way to finally get that extra storage you have been dreaming of. Whatever you use it for, the process of moving your items will be easy and quick.
Compare public storage Rapids City, IL. Reserve cheap self-storage units online or by phone with USSelfStorage.com
Illinois is a great place to rent car storage units and you will find that the most populated cities in Illinois like Chicago, Aurora, Rockford and Joliet, will provide you with the best selection. In these cities you will find sometimes hundreds of storage facilities within city limits offering covered car storage. Rent your extra space storage units in Rapids City for free at these facilities and get great service and savings.
Find a Rapids City storage facility, compare Rapids City car storage unit sizes, prices, amenities and discounts. View pictures, descriptions, and read customer reviews to assist you in making a selection. Once you select the public storage unit in Rapids City that best fits your needs, simply reserve online for free and lock in your storage unit price, save money and time. If you prefer, you can call and speak to a friendly and professional customer service representative, who could answer all your questions and who could take a reservation over the phone for free. No credit card is required to reserve storage units in Rapids City online or by phone.