San Diego — a city of more than one million people—possesses a unique beauty and charm. This is the same beauty and charm which enticed settlers from Mexico and Spain to the area, more than three hundred years ago.
San Diego is on the Pacific coast of California and is well-known for its pristine beaches, beautiful parks, and temperate climate. The renowned San Diego Zoo is located in the enormous Balboa Park, along with art galleries, gardens, museums, and art studios. A large, active naval fleet calls a deep harbor in San Diego home, and the USS Midway, an aircraft-carrier-turned-museum, is a beloved attraction.
Not only is San Diego one of the country's most popular tourist destinations, residents move here (and stay here) for all of the above reasons and more.
The History of San Diego
In 1867, Alonzo Erastus Horton stepped off a San Francisco steamer, onto the shores of what would one day become San Diego, telling others that he had been all over the world, and that this area was the "prettiest place for a city I ever saw." Since that time, the same sentiments have been echoed by millions, visitors and residents alike. Horton was to become the single most influential real estate speculator in the city of San Diego.
San Diego's history, however, goes back much further. The San Dieguitos were the first Americans in the area, descended from Asians who crossed the Bering Strait land bridge. The Kumeyaay Indians then made their way to the region, mixing with the Indians already in the area. Until the 16th century, when Juan Rodriguez Cabrillo sailed into the San Diego Harbor, the San Diego paradise belonged to the early Asians and Indians.
Rather than seeking to colonize San Diego, Cabrillo was searching for a northwest passage to link the Atlantic and Pacific Oceans. Cabrillo named the area San Miguel. Sixty years after Cabrillo landed, Sebastian Vizcaino was sailing for Spain when he landed on the shores of San Miguel and renamed it San Diego. It would be another 167 years before true colonization in San Diego began.
In 1769, the first California Mission, San Diego de Alcala, was dedicated. The Spanish mission system survived into the 19th century, including the trading of leatherwork, grain, wine, and hides. When Mexico declared its independence from Spain in 1821, however, the old system was doomed. Land, and the dream of building a new city brought Alonzo Horton to San Diego. Horton bought 960 acres in the area, then returned to San Francisco to set up a land sales office. Horton deemed San Diego the "city of the future."
William Heath Davis, Andrew Gray, and Alonzo Horton became partners, building a wharf out into the bay and creating their vision of what San Diego could be. From that point on, San Diego was boom and bust, with an economy built primarily on land speculation. When the railway finally connected San Diego to the east through Barstow, residents believed it would be a constant boom, however, it was not until San Diego was chosen as the site for the War Department's Army division in the Southwest that the city's future really began to take shape. Many aviators were attracted to the auspicious year-round flying conditions in San Diego, and soon the U.S. Navy began developing naval aviation in the area. By 1915, tourism began taking San Diego's economy and its future forward.
San Diego NightLife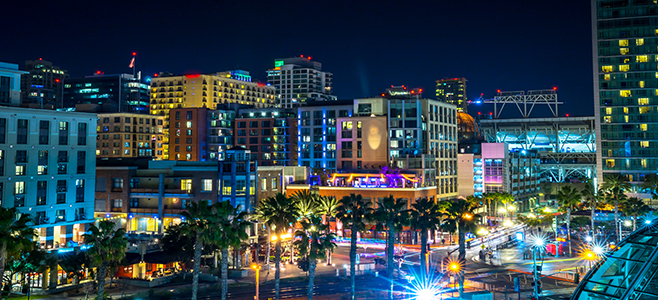 Nightlife in San Diego is some of the best on the West Coast, with world-class DJs, craft cocktails, works of art and dance floors filled to the brim with people. After a San Diego sundown, the fun begins in the Gaslamp Quarter—16 blocks with 50 bars, 10 nightclubs, and 180 restaurants. While bar-hopping can be fun, San Diego offers some truly unique spots to spend your evenings. You can catch an outdoor movie perched high atop the fourth-floor rooftop of the Manchester Grand Hyatt in San Diego. Many cult favorites are shown against a backdrop of stars and panoramic views, with upscale concessions to complete the evening.
The San Diego Wild Animal Park's sleepover event has a once a month "Adults Only Roar and Snore Safari Night." Guided hikes, animal viewing, sweet cuisine, campfire cats, guided hikes, and a cash bar complete the evening. To let off some steam after a hard day's work, visit AxeVentures in North Park—one of the several ax-throwing venues popping up across the city. Book a lane, learn the ropes and spend an hour or so perfecting your tomahawk throw. You can hang out and play arcade games in a grown-up environment at the Coin Op Game Rooms, complete with craft cocktails, beer taps, and classic bar bites. You may also want to consider the Bohemian Dining Club, trivia night at True North in North Park, and a planetarium show at the Fleet Science Center in Balboa Park as an alternative to the class bar and club nightlife.
The Beauty of San Diego
Along with the beautiful beaches in San Diego, the city is home to a variety of habitats, from desert wilderness to alpine mountains to chaparral-covered canyons. A few of the natural wonders in San Diego include:
Torrey Pine State Natural Reserve, filled with sandstone formations and spectacular views of the Pacific Ocean;
La Jolla Underwater Park which spans 6,000 acres of tidelands and ocean floors, filled with pelicans, leopard sharks, Garibaldi fish, seals, and sea lions;
Sunset Cliffs' Hidden Sea Cave which is tucked beneath sandstone bluffs on the southern end of Luscomb's Point, allows a view of the illuminated boulder-strewn cavern below, which, according to rumors, was used to smuggle rum from Mexico during the Prohibition era;
Potato Chip Rock has a narrow strip of stone jutting out of the mountain, attracting rock climbers as well as photography aficionados;
Annie's Canyon Trail is a newly restored trail in the San Elijo Lagoon Ecological Reserve, offering panoramic view of the Pacific Ocean;
Cedar Creek Falls is a challenging six-mile hike over chaparral-covered hills to a spectacular waterfall, and
The Anza-Borrego Desert State Park is one of the "most pristine desert parks in the world," according to National Geographic.
San Diego Cuisine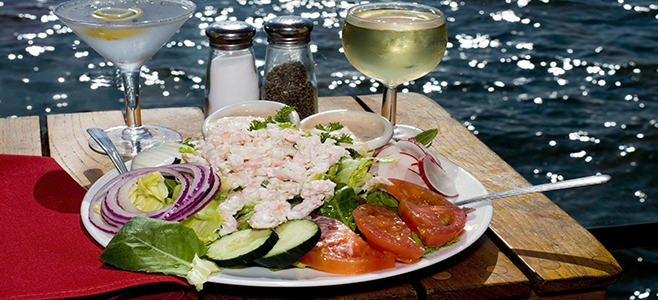 San Diego boasts a thriving food scene, both local favorites, and international foods, along with award-winning beers and great seafood. While you might think you could find a California burrito in any area in the state of California, San Diego is the only region that actually gets it right. A San Diego California burrito is packed with marinated carne asada, cheese, guacamole, sour cream…and crispy French fries, all rolled into warm flour tortillas. Fish tacos may have originated south of the border, but the city of San Diego has made this dish truly iconic, with its fish, cabbage, and a squeeze of lime. Ceviche is a local favorite; this citrus-cured dish incorporates ocean-fresh shrimp, cucumber, avocado and cilantro in a spicy serrano chili sauce.
There are more than 190 craft breweries and tasting rooms in the city of San Diego, with the biggest being Stone Brewing Company, with multiple locations and a large selection of brews. Pure Project is a globally inspired brewery, incorporating unique ingredients like hibiscus, strawberries, bananas, and peanut butter. Finally, how about some uni? Celebrity chef Anthony Bourdain once claimed the uni from San Diego was the best in the world. Catalina Offshore Products sells locally caught sea urchin with sashimi grade fish you can prepare at home or go to Davanti Enoteca for king crab and uni carbonara.
Family Fun in San Diego
San Diego might well be the ultimate family fun destination. With SeaWorld, the San Diego Zoo, the San Diego Zoo Safari Park, and Balboa Park (often referred to as the Smithsonian of the West), San Diego is a getaway spot which is perfect for the entire family. Balboa Park has 1,200 lush acres, 85 cultural attractions, and a massive array of fun things for those of all ages. No stay in San Diego is complete without a trip to the San Diego Bay, the Maritime Museum of San Diego, ant eh USS Midway Museum.
San Diego has 70 miles of coastline, where there is something for everyone. Mission Bay is a 4,600-acre aquatic playground, Coronado Beach is recognized annually as the best family beach in North America, La Jolla Shores is one of the most family-friendly beaches in the area, Ocean Beach has a three-mile boardwalk, and Mission Beach is home to Belmont Park, with amusement arcades, the Wave House and the Giant Dipper roller coaster.
San Diego—Vacation Destination to Home Sweet Home
Many San Diego tourists return to make the city their permanent home, and with good reason. It can be difficult to leave behind the 70-degree weather, delicious local fare, captivating scenery, and other attractions. If you were contemplating a move, a vacation to San Diego could be what pushes you over the edge, convincing you to relocate here for good. If you do decide to relocate to San Diego, you will find a housing market which includes friendly neighborhoods, and several San Diego self-storage units to help make the transition much easier. The natural beauty of San Diego, the amazing weather, the nightlife, and family adventures, along with the historic attractions, convince many to move to San Diego permanently.
What You Can Expect When You Move to San Diego
Depending on where you are relocating from, living in San Diego could take some getting used to. While San Diego is a rich, diverse, incredible place to live, it is advisable to move in the wintertime—Summer vacationers tend to make it harder to find a place to live, driving up occupancy rates.
If you plan on owning and driving a car, check out the local parking situation, as parking tends to be a challenge in some neighborhoods. Remember to conserve—California has laws which mandate recycling and water conservation. Get a Compass Card, even if you don't think you will be using public transportation all that often. Even if you do not plan on attending Comic-Con, it's good to remember that the influx of visitors from around the globe will absolutely affect your commute, travel, and recreation, so make a note of the times on your calendar.
Transportation in San Diego
Although it wouldn't be California if there were no complaints about the traffic, the average commute times in San Diego are a manageable 26 minutes. The city has a robust public transit system, from the Rapid Bus which connects to the suburbs to the downtown trolley. The Red Trolley is fun, easy and convenient way to get around the city, with four trolley lines which service Downtown San Diego and beyond.
The Santa Fe Depot, located on Broadway and Kettner Blvd., is the main hub for Amtrak, and there are plenty of connecting services from the Oceanside station. The newest option is the east-west SPRINTER light rail train system, connecting Oceanside, Vista, San Marcos, and Escondido, running 22 miles along the Highway 78 corridor, and serving 15 stations.
Parking laws are strictly enforced in San Diego, including meters, no parking days and hours and permits required. There are a number of pay-to-park lots throughout the city. The International Airport is located ten minutes from downtown San Diego, serviced by 22 major and commuter airlines.
Cost of Living in San Diego
According to smartasset.com, the city of San Diego can be somewhat expensive as far as housing costs—even by California standards, San Diego has a high median price for homes, with the average price for a San Diego home about $626,000. Rent for a one-bedroom in the city averages $1,564. Average utilities for a 915-square-foot apartment in the city averages $130.60 per month, although if you add internet to the electricity, water, heating, and garbage, you can expect to pay an additional $65 per month. A monthly pass on the San Diego public transit system costs between $72 and $100 and gas prices in San Diego are as high as $4.09 per gallon.
San Diego residents who cook their meals at home can expect to spend about $313 per month on groceries—lower than the $324 per month average. A trip to a mid-tier restaurant for a three-course meal will run you about $50 per person. Healthcare prices in San Diego are about 64 percent more expensive than the national median. California is known for its high taxes, and San Diego is no exception, boasting the highest income tax rates in the United States. On the flip side, property taxes are low.
Weather in San Diego
The city of San Diego has a pleasant, mild weather, year-round, as well as low humidity and good air quality. The rains tend to come in the wintertime, and the exact weather will depend on your location in the city—the coastal area, the desert, or the mountains.
Job Market in San Diego
The unemployment rate in the city of San Diego is lower than the national average, and the average salary is higher than the national average. The primary industries in the city include research, health care, tourism, military, and technology. There are a number of national defense contractors in the area, and the education and health care fields are also prominent in San Diego. The tourism industry also employs numerous residents—nearly 35 million tourists make their way to sunny San Diego each year.
City Neighborhoods in San Diego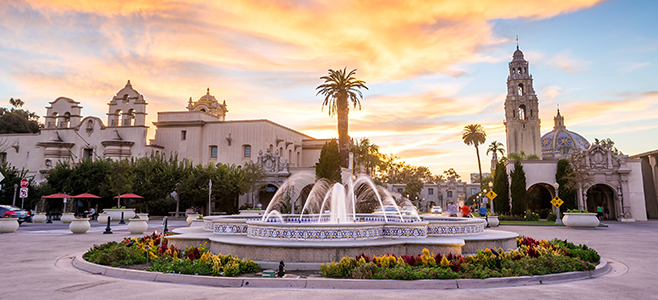 San Diego has many different neighborhoods; where you choose to live will influence your transportation costs, as well as your rent or housing costs. Some of the most notable neighborhoods in San Diego include:
Del Mar, full of attractive beaches and classy homes;
La Jolla, a ritzy beach town filled with amazing cuisine and plenty of college students;
The East Village, a great place for sports fanatics, full of luxury lofts and apartments;
South Park, a small, tight-knit community with farm-to-table restaurants and an urban feel;
North Park, the craft-brew center of San Diego;
El Cerrito, an up-and-coming neighborhood with historic homes and walkable streets;
Little Italy, a great spot for urban families, full of dog parks, playgrounds and pedestrian areas;
Downtown San Diego, full of dining options, nightlife, and a young, upbeat community, and
Pacific Beach, full of surfer vibes and exciting nightlife.
Schools in San Diego
There are 395 preschools, 312 elementary schools, 198 middle schools, 147 high schools, 51 public charter schools, and 510 private schools in the city of San Diego. Many of these schools are top-rated.
Moving Tips for Those Moving to San Diego
Finding the best place to live is just one aspect of moving to San Diego. Parking can be an issue, particularly in areas which have regular street-sweeping. Figure out the parking around your workplace and your home quickly to avoid problems. Water is strictly conserved, and recycling is enforced. Major grocery stores include Albertsons, Vons, Ralphs, Whole Foods, Trader Joe's, and Fresh & Easy. The local news channels include Fox6, 10 New, CBS8, and KPBS. The primary newspaper in the area is the San Diego Union-Tribune. If you have a dog, make sure it is licensed and vaccinated, and you will want to obtain a new driver's license, register your vehicle at the DMV, determine when garbage day is and register to vote sooner, rather than later. Finally, for those who need a spot to stash the overflow in your life, a storage unit in San Diego can be a great option.