Perhaps you recently found out you are being transferred to another state—or even to another country. Or, perhaps a new opportunity has arisen in another area, and you must take advantage of it immediately—or lose the opportunity. But what if it is in the middle of winter when you end up attempting to pack and move?
While it is true that moving in inclement weather can certainly come with its own set of challenges, there are ways to deal with those challenges. There is even a potential benefit to moving in the winter. It is generally significantly cheaper to move during the winter months than to move during the spring or summer when the weather is typically much better.
If you end up having to move during the winter months, there are a number of things to be aware of, in order to make the move as smooth as possible.
Prior to Moving Day
Once you have your target moving date on the calendar, it is important to begin packing your belongings as soon as possible. The sooner you start packing, the easier it will be for you—and for everyone else involved in the move.
Remember that items which are delicate or fragile can become more brittle in cold weather. As such, double-wrap fragile items, so they are less likely to break while moving. Any items which can be damaged by the cold should not be packed in the moving truck in case it has to sit overnight due to weather.
Ensure there will be electricity and water at your new home, as well as at the home you are moving out of. If there is a considerable amount of snow in your area, you might want to hire someone to help clear snow from walk paths. If ice is the problem, sand and salt can help melt the ice in high-traffic areas. If you are expecting more snow, make sure you have snow shovels to clear any areas of new snow on the day of your move.
Keep a close watch on the weather, so you will know what to expect the day of your move. Make sure you have discussed the weather situation with your moving company and that you are aware of any policies the moving company may have regarding inclement weather.
If you are loading and driving the moving truck yourself, you will still need to find out the policies for driving a moving truck in winter weather, and whether you will face penalties if you are unable to return the moving truck in time due to weather conditions. Remember, while moving in the winter may add challenges, it is certainly not impossible. Do your homework and be prepared. Even with GPS, you need to know your route on a paper map, as well as alternate routes in the case of extremely bad weather.
Before you drive your car on a cross-country trip, have it serviced and winterized, checking brakes and tires, and having all car fluids topped up. It's a good idea to carry chains with you, and to practice putting them on, should it become necessary. Pack your car with a gas can full of gas, salt or kitty litter in case you get stuck, an emergency blanket, a good snow shovel, and extra washer fluid. Having membership to Triple A or other roadside assistance service is a good idea if you will be traveling for many miles.
Make an emergency contact list, even though you probably have contacts in your cell phone. Add the roadside assistance number to your phone and on your paper list, as well as the number for highway patrol in the states you are going through and the numbers for highway road conditions. Give a copy of your moving and travel plans to someone who is not moving, and plan to make regular calls to this person so they will know your move is on schedule as well as when you will be arriving.
Whenever possible, board your pets, or leave them with a trusted friend or family member on moving day. It can be very difficult to move with a puppy underfoot, or a cat who may be trying to get out the door every time it opens. Make sure you have sheets, towels, and blankets on hand (that are not packed away in boxes) in case you need to cover up something before it is exposed to inclement weather.
Making Sure You are Insured in Case the Unthinkable Happens
If you are using a moving company, ensure they have adequate coverage to cover your belongings. All moving companies are required under federal regulations to offer two types of coverage on out-of-state moves. The first type of coverage is known as "released value protection." This coverage is set at 60 cents per pound, meaning you would be reimbursed for everything in the moving truck, at 60 cents per pound. As you can imagine, 60 cents a pound is virtually nothing for your worldly possessions. Long-distance movers sometimes also offer "full-value protection." This coverage is based on your valuation of the contents being transported, and the cost of this protection is based on one percent of the valuation.
As an example, if all your belongings in the moving truck are worth $300,000, you would pay about $3,000 for full-value protection. If your articles are lost, destroyed, or damaged during the move, then your full-value protection would kick in. The moving company—not you—determine whether the item which is damaged will be repaired, or whether it will be replaced with a similar item. In other words, if your refrigerator, which is three years old, falls out of the moving truck and is rendered inoperable, you will likely receive monetary compensation in the amount of what a three-year-old refrigerator is actually worth. Further, the moving company is not required to reimburse you for any item valued at more than $100 per pound unless the item is specifically listed on the shipping documents.
If you have many high-dollar items which will be in the moving truck, you can upgrade your coverage to include expanded valuations. Even when you have all the necessary insurance, with valuation coverage movers are not responsible for items in any box they did not pack. You are also not covered for any natural disaster, including a fire, a hurricane, tornado, hail or a windstorm. You may have some level of insurance coverage through your homeowner's policy, although it is unlikely to be worth much.
Items to Have on Hand on Moving Day
There are a number of items to ensure you have on hand on moving day, including:
Snow tires;
Chains;
Extra liability insurance;
Flares;
Blankets and emergency food and water;
Paper maps in addition to your GPS or phone;
Flashlights;
A good spare tire and jack;
A quart of oil, and
A gallon or two of water in addition to your drinking water.
Preparing Your Old Home for Moving Day
Preparing your old home for moving out is as important as preparing your new home for moving in. Make sure the snow is shoveled around your home, creating a wide path for moving large furniture from your home to the moving truck. Use plenty of de-icer or salt on all areas you will be using to move items, to make sure there will be no slip and falls. Lay down large pieces of cardboard and sheets of plastic to protect your floors from snow and dirt that will almost certainly be tracked in. If your floors can withstand heavy duty tape, tape the plastic sheets to the floor to keep them from moving. Make sure to have hot drinks on hand, whether you are moving yourself or hiring movers. Hot chocolate, tea, hot apple cider, or coffee, will be very welcome by everyone helping with the move. Make sure you have extra mittens, hats, and scarves as well.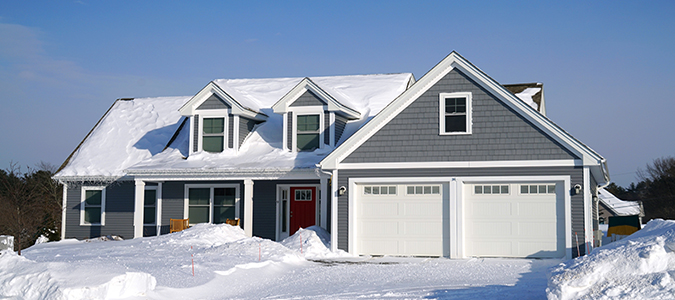 Preparing Your New Home for Moving Day
Depending on how far away your new home is, you may want to check it out yourself or have your real estate agent or the rental property manager check to make sure it is ready to move into. You will want to make sure the new home has heat and lights, and that all utilities have been set up and are functioning. Have the heat, water and lights turned on at least two days prior to your move, and have the heat turned up on the day of your move so the house will be nice and warm while you are moving in.
In the same way you want to make sure the snow is cleared from the walkways at the house you are moving out of, you also want to make sure the snow is cleared from the walkways at your new home. Depending on where you are moving, you want to make sure there is parking available for the moving truck. If you are moving to a neighborhood with limited parking, you may need to negotiate with your new neighbors to ensure there will be a place for the truck to park. Since it gets dark early in the wintertime months, make sure you have good exterior lighting to give movers light to unpack.
Plan to unload all your boxes in one area—if you have a garage, this is the ideal place. If not, set up an area a few feet into the house for the boxes, after putting the furniture in the appropriate rooms. If it is still snowing, set up a pop-up tent at the end of the moving truck, giving extra space to load and unload.
Organization Can Make All the Difference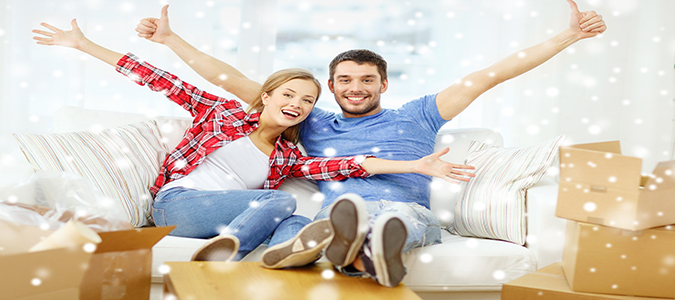 Organization can truly make all the difference when you are moving, regardless of the time of year. If you are organized, the move will be more efficient—and you may save money as well. Pare down and sort all your belongings before you begin packing, so there will be less to pack. Make sure all boxes are clearly labeled so you will be able to find things quickly at your new home. Have an idea in your mind of where your belongings will go in your new home. Separate the things you need to take with you in your personal vehicle, including:
Paperwork associated with the move and your new home;
Changes of clothing;
Any priceless or irreplaceable items, including photographs;
Medications for yourself and everyone in your family, and
Computers and sensitive electronic items.
When you can quickly locate items you might need quickly, it makes the move much less stressful.
A Backup Plan is Essential During Winter Months
If you have been watching the weather and a winter storm may be threatening your move, make sure you have a solid backup plan in case you must re-schedule the move. If you are hiring movers, make sure you know what their policies are as far winter conditions—will they postpone the move if the weather is especially bad, or will they forge ahead? If they do move your belongings, regardless of the weather, are you comfortable driving in your own vehicle if the weather is particularly bad? If you are moving yourself, ask about how bad weather will affect your move, and whether you are comfortable driving a moving truck in bad weather. Also, remember that if someone is moving into the house you are moving out of, you may have to extend the time you are allowed to stay in the house, or make arrangements to stay with friends, family or in a hotel until the weather clears up. If you decide to travel, make sure the route you are taking is open and safe to travel on. Finally, if any of your moving boxes have spent time in the weather, unload any compromised boxes immediately, removing all items to avoid damage.
Don't Forget Your Movers!
If a moving company is handling your move, make sure you show your appreciation, both in thanks and in a tip for each mover to reinforce your appreciation. Because it is more difficult to move in the winter, show your thanks with coffee, hot cocoa or hot apple cider at the new home to warm up the movers when they need to take a break. It is certainly a good idea to tip the movers more than you would tip for a summer move.
The Bottom Line
Moving is challenging no matter whether you move in good weather or bad. Since the winter months allow you to take advantage of lower rates and have an easier time scheduling, you will want to make sure you stay organized and on top of things to make your move a success. While "self-care" may be a buzzword now, it is important to remember that relocating is stressful, any way you look at it. Give yourself a bit of time to unwind before you rush into unpacking—order take-out, watch a movie, take a bath—whatever you need to do to recoup from a snowy, exhausting day.