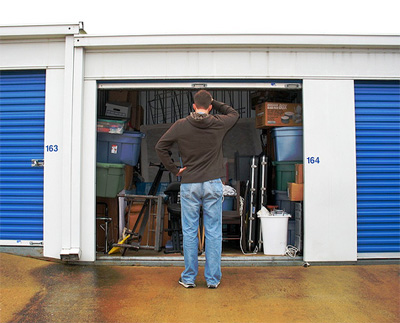 Self Storage Unit
Ah, it's officially summer and this time of year for many represents fun, travel, outdoor grilling, relaxation, cruising aimlessly in drop-tops and two-wheelers, camping, hitting the beaches, and being miserably hot and muggy. USSelfStorageLocator.com is headquartered in sunny, sweltering South Florida. Some self storage tenants have summer-related items to take out, while others are considering acquiring a self storage unit. Prospective tenants—those are the individuals I want to address in this blog.
Some consider shopping for self storage a tired tedious task that's useful only when absolutely needed; while others find it a relief of sorts. I want to make one primary point when looking for self storage. If you're the type of person that prefers to shop-around before making a decision, and you really don't know what size of self storage unit you need, but you know how much junk lovely items you have, visit at least one facility. Ask the manager or employee to physically show you a few units of various sizes. Then you can fully determine what size you need.
I implore you to resist the urge to call several facilities while not knowing what size will be most accommodating for your storage needs. Asking "How much space do I need" after explaining on the phone that you have a crush-velvet couch, an antique Iowa-built cupboard, an Elton John pinball machine, a case of Victorian-vases that you got for a great price from the flea-market in 1989, a 6-Flags Atlantic shag-rug, a Greenbay Packers helmet, and a boars head isn't a good idea. Whoever answers the phone and gives you an answer, is simply guessing. You, on the other hand, generally have a good idea of what you really have.
Again, I suggest you visit at least one property, so you will have a visual idea of how much space is needed and what that particular size is. Otherwise the person that answers the phone can assume from what you described, you need more space than you actually need, and then you overpay. Or you can be told the opposite—which you don't realize the unit is too small until you've unloaded ¾ of your precious trinkets, and the rest obviously isn't going to fit.
Here's the scene that happens next. You will return to the storage office explaining that he or she advised you to get the wrong size. Then you'll need to get another unit (larger or smaller); pay the difference for a larger unit, receive a credit, or get a refund; remove and place those same items in another unit (if the necessary size is available at that same facility), and sign lease/contracts all over again. How many people actually look forward to doing double the work, especially when it could have been prevented?
So all you first-time and past renters, who have chosen this summer to get a storage unit, do yourself a big favor and know what size you need before choosing a facility and unit. I understand that the nearest facility isn't always close in some areas; and the one trip you take to self storage facility, is the one you want to make when dropping off your belongings. That's not a problem. Visit USSelfStorageLocator.com and use our search tool with visual unit size illustrations to give you an idea of how much space you might require. This feature will alleviate guessing and get you into the correct unit for your storage needs.