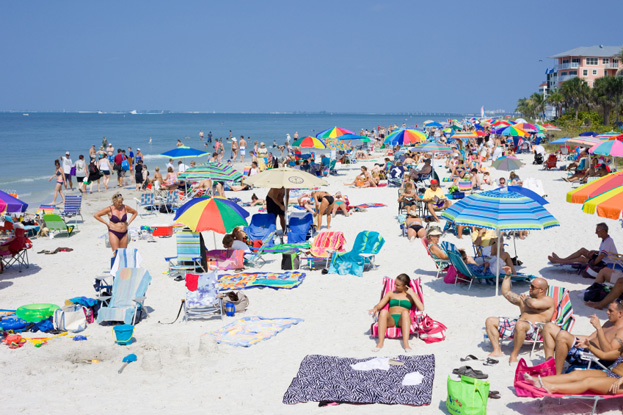 Florida Summer Beach
It's that time of year again where you'll break out your bikinis and shorts and put away all your winter gear and say a big hello to the sun. For the next three months, you can embrace beautiful weather and frolic at the beach to your heart's content. As sure as you'll need plenty of sunscreen, you'll need self storage as well. Here are some self storage tips for summer that will get the not-so-fun things out of the way, and get you started with enjoying every minute of your summer:
Put your out of season clothes away to make room for new ones.

The most obvious items you will need to put away will be your bulky winter gear that you might have lapsed on storing during the spring or perhaps you live somewhere where spring was a little chilly this year. Whatever the case may be, stowing away those big winter boots and jackets will create much needed room for your bright and fun summer clothing. You can use airtight vacuum bags and place your winter clothing under your bed if space permits. You can even store them in your attic or basement since you won't need them until autumn. If you have a big family and less than enough space, you can consider renting a small self storage unit to store your family's extra clothing. Since you would just be storing clothing, you can take advantage of the availability and convenience that self storage facilities offer. If price may be an issue, enjoy additional savings by renting an upper-level unit if available. Many self storage facilities offer elevated units at lower rates than drive-up and ground-level units. Since clothing items are relatively light, it wouldn't be a burden to transport between seasons.

Store your winter equipment.

Have an electric snow shovel or big external heater that you needed in the winter? You can free up space in your garage for your summer projects by putting these items in a storage unit for the summer. This way, you know they are kept clean and safe and away from the high temperature of summer which might cause them damage. Consider a climate-controlled unit for these items. Ensure that these items are cleaned thoroughly before storing them. They should be dry to avoid rust. You can store these items towards the back of your storage unit since you won't need them again for a few months.

College students can pack away items for next school term.

Self storage is perfect for storing your belongings for summer. Whether you'll be going home until Spring or just need some extra space in your already small dorm room or apartment while taking summer classes. You can store books, clothes, computers, and just about everything not needed until classes begin. Many storage facilities offer discounts for college students so be sure to inquire about them so you can save on that ramen noodles budget! Another helpful tip to consider is; you and a friend can rent a storage unit together to save even further. If the few items you have occupy less than half of the storage space, you can rent with another person and pay half the cost. Furthermore, if you only have a couple items to store, you can get even a few more friends to rent with which will cut your individual costs to almost nothing.

Swap out your summer items with your winter gear in a unit you already rent.

You can just swap out your items from your winter storage instead of renting an extra storage. You'll save time and money and will have an opportunity to rearrange things a bit—putting the more important items that you will need to the top or front. You can do this at the beginning and end of every season instead of renting a new storage unit to store your extra seasonal items every time.

Store your home improvement tools.

Many people use summer as an opportunity to make renovations to their home. You'll undoubtedly need to clear up space and move your belongings elsewhere while you work on your roof, lawn, garage or painting endeavors. Storing your items in a storage unit while you make your home improvements will ensure that they are kept out of the way and not damaged or tainted while you hammer and paint your way around your home.

Use self storage to pack away your summer toys.

You might be hesitant to buy that above ground swimming pool because you feel you won't have anywhere to put it at the end of summer. Feel free to buy whatever you wish to enhance your summer experience and then rent a self storage unit at the end of summer to safely store them. You won't have to worry about using additional space in your home or selling the items when summer is done.
Remember that you can take advantage of more general self storage tips on our site and be sure to employ these tips to have an even more incredible summer!