Cybercrime is on the rise and more sophisticated schemes are popping up all the time. Be wary, "if it's too good to be true, it probably is".
I received this email a few weeks ago:
From: umesh2212@hotmail.com
To: umesh2212@hotmail.com
Subject: RE: Monster Energy Drink
Date: Tue, 16 Apr 2013 00:36:41 +0000
Would You Wrap Your Car in an Ad for $300 Weekly?
Sounds good, right? Wow, $1200.00 a month. Who couldn't use an extra $1200 a month. I'd seen cars wrapped for Monster Energy and Red Bull. I thought, sure I could do that: wrap my car, drive and earn $300 weekly. Yep, sounds good, so I replied asking for more information. We exchanged emails with each email asking for more information. When the information started getting personal and the emails dragging out, I started to question it. Was I getting scammed, only one way to find out? Call Monster Energy.
I contacted Monster Energy only to find out that the email was indeed a scam. The scam works as follows: The scam artist exchanges several emails to build rapport. Next they send you an email to check your mail for your check. A check that you are to cash, keep your fee and pay the rest to a graphic artist who will wrap your car. Perfect, right? Not! According to Fraud.org., once you deposit the check and pay the graphic artist or support team, you are out the money. And if that isn't bad enough, the original check is a fake and will bounce leaving you owing your bank the total of the check.
Cyber-crime is on the rise and comes in a variety of sorts. According to the Internet Crime Complaint Center (www.ic3.gov) who partners with the Federal Bureau of Investigation, National White Collar Crime Center and the Bureau of Justice Assistance US Department of Justice, 289,874 complaints were filed in by consumers in 2012. Consumers lost an estimated $525 million dollars. Yep, scammers took consumers for about $525 million dollars, an 8.3% increase over losses occurred in 2011.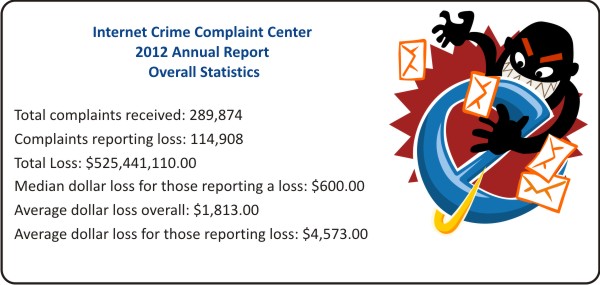 Access the full 2012 Annual Report here.
The scammers are very clever and have a multitude of methods to part you from your money. The FBI's website lists the most common frauds and they range from the famous Nigerian letter or help to collect lottery winnings, reverse mortgage scams, identity theft, and credit card theft to internet auction fraud. The FBI offers suggestions on how to protect yourself and family from various internet crimes on their website, click here. For more internet crime prevention tips visit Internet Crime Complaint Center at www.ic3.gov. But mostly, buyers beware. Do your research and investigate because as the old age saying goes, "If it sounds too good to be true, it probably is.
Almost taken, not this time.