Have a small business or looking to start one and need a location? Is office and warehouse space too expensive? Looking to cut back on the monthly expenses? A self storage unit might just be a creative and affordable solution. At a recent business forum earlier this year, Steve Wilson of Hide-Away Storage in Sarasota, Florida, discussed ways that small business owners and entrepreneurs can use self storage. "Self-storage can save small businesses a lot of money by giving them great flexibility with a comparatively low dollar commitment," said Mr. Wilson. He explained further, "There are no long-term leases with self-storage". Of course you can use the storage unit as is intended for storage; extra inventory and materials as many businesses are cutting overhead and downsizing. So they are opting to use storage units for everything not needed on a daily basis.
Mr. Wilson went on further to explain some of the uses his customers have used their storage units:
One customer designs and builds custom bathrooms and uses his unit as a showroom and to warehouse the items he builds.
One company stores refurbished copies until they are sold.
Medical sales representatives are able to accept and store shipments of samples and sales materials.
An interior decorator uses the unit to display carpet and home décor samples.
Buying and selling through Craig's List or eBay, inventory can be stored.
Because of local zoning restrictions small lawn care companies, electricians, and plumbers store their equipment as well as their commercial vehicles.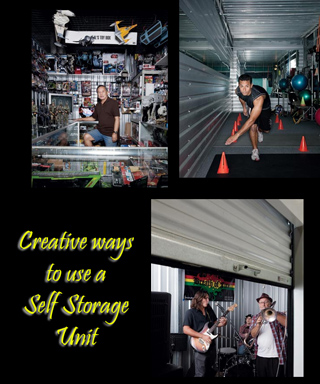 Collectible shop, personal trainer, band practice
It seems as if Mr. Wilson is not the only storage facility allowing businesses to be operated out of a storage unit. According to an article in Honolulu Magazine, a Honolulu storage facility has tenants that have used their storage units for various business enterprises: a personal training studio, practice studio and storage space for a band, a toy collectible shop, a bicycle repair shop and even an attorney's office. Yes, Family Law Attorney, Pablo Quiban practices out of a storage unit. He has his desk, cell phone, copier and all his books and it's convenient to his home and the courts. His customers don't have a problem with the locale of his office, says Quiban, "They've been receptive to it. There's free parking—downtown it's ridiculous—and it's just a matter of giving people the right directions. I say just look for the Burger King and hang a left!" He says he is there to stay as long as the cases keep coming. But before you set up office in a storage unit, check with the facility to see if human occupancy is allowed.
Since commercial office or warehouse space can be costly, a self storage unit can be quite reasonable and allows much flexibility since you don't need any long term contracts. And some storage facilities might give discounts for longer term rentals. Additionally, some facility owners may offer to install the necessary electric, phone, and internet outlets as well as offer other services such as receiving and unpacking deliveries.
However, before renting any unit, check out the facility location to determine if it fits your needs, that the site is well maintained and properly secured. You want your belongings to be safe, so security is important. Keep in mind that when opening any business, be sure to check local zoning laws and secure any necessary business permits and licenses. Also check into comprehensive insurance or you can elect to purchase coverage from the facility. Running a business is expensive, so any way you can save to improve your bottom line will help your business become more successful. And as far as the self storage facility owners, having business tenants will help occupancy rates and your bottom line as well.