Editor's Note: USSelfStorageLocator.com would like to salute all those who have given their lives in defense of our freedom and pay respects to their families, relatives and friends! - 2588GHNN7HQN
Since 1971, Memorial Day officially observed on the last Monday in May after Congress passed the Uniform Monday Holiday Act in 1968. The Uniform Monday Holiday Act was established in order to create a three day weekend for federal employees. This law also made Memorial Day a federal holiday, thereby giving lots of other employees a three day weekend. This three day weekend also unofficially marks the beginning of summer. Today, Memorial Day is another day off with many Americans holding family gatherings, picnics or taking short trips, thereby diminishing the true meaning of Memorial Day.
At the time that General John Logan, a leader of an organization for Northern Civil War veterans, called for a nationwide day of remembrance on May 5, 1862, the Civil War was raging on. So many lives were lost during this conflict that it led to the establishment of the country's first national cemeteries. General Logan declared May 30, 1868 "Decoration Day" for the purpose of decorating the graves and honoring those who died in defense of their country no matter the conflict. This date for was chosen because it wasn't the anniversary of any particular battle and on the first "Decoration Day" participants decorated the graves of 20,000 Union and Confederate soldiers buried in Arlington National Cemetery. Other Northern states held similar commemorative events and many made this date an official state holiday.
Decoration Day, May 30th, gradually evolving to be called Memorial Day, honored fallen soldiers of the Civil War until the United States became embroiled in World War I. During World War I, Memorial Day evolved to honor all American Military personnel who died in all wars. For decades, Memorial Day was observed on the date General Logan selected, that is until Congress passed the Uniform Monday Holiday Act, making it the last Monday in May. Although some cities, towns, active military and veteran organizations still continue to honor our fallen by hosting parades and by placing wreaths, flags and flowers on gravesites. Many towns haven't seen a parade in decades and in 2004, Washington DC held its first Memorial Day parade in over 60 years. Unfortunately, observance of Memorial Day continues to diminish and many have forgotten the meaning and traditions of Memorial Day.
The "National Moment of Remembrance" resolution passed in December 2000, to help re-educate and remind Americans of the true meaning of Memorial Day. This resolution asks that at 3pm local time, for all Americans to observe a moment of remembrance and respect, by pausing from activities for a moment of silence or by listening to "Taps". Although, the "National Moment of Remembrance" is a step in the right direction of reminding Americans the true meaning of Memorial Day, several veteran organizations think that more is needed: one day for the nation to get together and remember, reflect and honor those who have given their all in service to their county.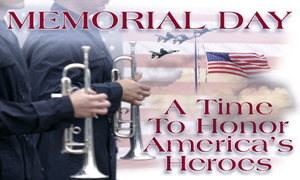 Memorial Day 2013
So until this happens, this Memorial Day, before the picnics and BBQ's begin, before heading out to the car and furniture sales, take a moment, visit a local cemetery place a flag or flowers on a fallen military persons grave or take some time to participate in a local Memorial Day parade. At the least, stop what you are doing at 3pm and take a moment along with the nation, to remember, to honor, reflect and respect those who sacrificed and gave their all for our country.
Remembering those who to gave the ultimate sacrifice