The ocean is a place for adventure. Its not only a deep remote expanse of water, it's home to some of the worlds most amazing creatures. Not only is it home to some of the most amazing creatures, it also lends itself to some of the most enjoyable outdoor activities. From Florida to Hawaii the ocean is an epic playground for thrill seekers and sunbathers alike. There's one ocean activity that (in my opinion), really stands out as the most breathtaking. The activity that I'm referring to is surfing!
When you surf you're not only participating in an awesome form of recreation, you're also experiencing a taste of culture, and history. To add to the awesomeness, surfing it up in Hawaii is a mountain top experience of which little can compare to. It's like overcoming a childhood fear or driving a fast sports car. Nothing can compare! As a side note, where do you keep all those surfing boards that do not fit in your garage, or apartment living room? In your own unit at a self storage in Hawaii, of course.
Hawaii is the birthplace of all big wave surfing, surfers began to ride the powerful winter waves of Makaha on the western shore of Oahu as early as the 1950s. Another hot spot for surfers was Waimea Bay on the North Shore. Generally, the big wave season on the Hawaiian Islands happens between November and February (approximately), and of course, it takes place on the epic north shores! The best surfing competitions (also my opinion) are held on the north shore of Oahu in November and December. Vans Triple Crown of Surfing stands among one of the most notable surfing competitions, and is often referred to as the "Super Bowl" of surfing.
Every Hawaiian Island has surfers flooding to its shores come surf season! Most beaches of Hawaii Island are suited for the most experienced surfers out there! But, don't worry! You can still find spots that will cater more towards beginners, as well as intermediate surfers! Many places that may be more suited for the beginner or intermediate surfers are located at Pine Trees Beach, which is north of Kona airport, as well as Kahaluu Beach, which is located in Keauhou. Another legit place to check out the waves for the beginner would be the Bayans in the Historic Kailua Village.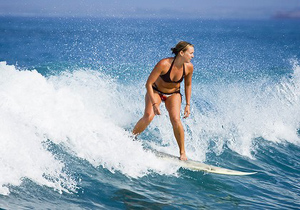 Hawaii, world class surfing
To the east, the Honolii Beach Park in Hilo is the place to go if you're an experienced surfer who's up for the challenge of a lifetime. Trust me, it's an extreme surfer's dream come true! Don't worry if you're not too experienced, or you just want to have fun. That's great too! Everyone should be able to enjoy surfing, not just the experienced surfers! Instructors will take first time surfers to safe breaks to get you on your feet during your beginning early stages of learning! Don't worry though, you'll be surfing like a pro in no time!
So, if you ever find yourself on the beautiful islands of Hawaii, make it a priority to grab a board, and hit the waves! You won't regret it! I guarantee you'll be in for the ride, and experience of a lifetime!
By Guest Contributor Sam Larson - samexplores.com