Trailer Self-Storage
Trailers of all sizes are commonly used by businesses to store materials, equipment and a variety of other stuff.
Trailer Storage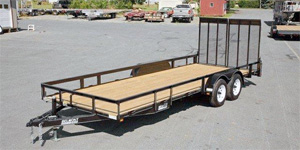 Trailers that hook to your truck or SUV are a great way to tow larger vehicles, lawn equipment, or business supplies. They come in all shapes and sizes and are perfect for both individual and business use. When they are not in use, however, they can be difficult to store in garages or on properties. In fact, many subdivisions and communities have strict rules about storing trailers on property or in driveways. When this occurs, you need to find a safe and reliable place to store your trailer when it is not in use.
Trailers can be used to tow many things, including:
Cars
Boats
Jet skis
Metal containers
Office equipment
Motorcycles
ATVs
Lawn equipment
Tractors
Construction equipment
Tools
And more
When these trailers are not in the job site or pulling their cargo, they have to be stored at reputable storage facilities, since they cannot be stored at residential places, or small business areas or shopping centers.
Finding a Trailer Storage Unit
Most facilities that have outside parking spaces that will accommodate any type of trailer for a short or long period of time. What is more convenient is since they are outside parking spaces and have keypad access, most of the time you can access your trailer 24 hours a day. You can also choose from indoor storage spaces to outdoor storage spaces, depending on your needs. If you need to store your trailer with items loaded on your trailer, an indoor storage unit may be your best and most ideal solution. If you are simply looking for an economical way to store your trailer, an outdoor parking space may be more appropriate.
When choosing the right storage unit for your trailer, it is important to determine how often you will need access to your trailer. If you will be visiting your trailer frequently to tow items and equipment, an outdoor storage unit or parking space is ideal and allows you to drive straight up to your trailer to haul it away.
Before you choose the storage facility for your trailer, be sure to inquire about security features. All storage unit facilities should be well lit, have electronic gated access, and 24-hour cameras for extra security. Many storage facilities also have security guards on-site to keep the property free from criminal activity.
Preparing Your Trailer for Storage
When storing your trailer at a storage facility, it is important to take the time to prepare it for storage.
Make sure your park it properly
All loose items should be removed and/or secured
Wash and detail your trailer if you won't be using it for a long period of time
Be sure that your trailer is completely dry prior to storage
If your trailer has an emergency breakaway battery, be sure to remove it and store the battery.
Your trailer should be placed on jack stands to prevent tire warping. Do not place jack stands on the equalizers or any part of the suspension.
If you are storing your trailer with the tires on, be sure to stabilize the trailer on blocks to reduce the weight and reduce the tire air to the recommended cold weather PSI
Boat trailers will need to have their brake drums removed prior to lengthy storage. Use a brake lubricant to lubricate each of the moving brake parts.
Inspect any seams for loose or missing sealant
Remove all rust from your trailer
While your towing rig is stored, use a trailer coupler and boat trailer lock. Hitch locks are designed to stop thieves from stealing your trailer. These locks prevent anyone from lifting your trailer and attaching it to any vehicle.
If you are going to be storing your trailer with items secured, you may want to invest additional money in an enclosed outdoor storage unit that you can lock securely.
If you will be using your trailer on a frequent basis and just need a place to store it temporarily, it is not necessary to completely "winterize" your trailer before storage. The above steps are mainly to be used when trailers are just used "seasonally", such as lawn care equipment companies or boat towing.
If you need assistance choosing the trailer storage that is best for your needs, give us a call. Our storage specialists can help you find the ideal storage solution for your needs.