In less than two-weeks, staffers from USSelfstoragelocator.com will embark upon the Queen City—Charlotte, North Carolina; which is the largest city in North Carolina (maybe King City should have been designated the city nickname) to further spread the word about our great product and the even better services we offer owner/operators as well as self storage renters. Charlotte and more specifically The Westin Hotel and Charlotte Convention Center, is host to this years' Self Storage Association Spring Conference and Trade Show, April 5-7.
The team at USSelfStorageLocator.com is working hard to bring this website to the forefront of the industry, so we are building from the Las Vegas Expo experience (held March 14-16, 2011 at Paris Las Vegas hotel) and keeping our focus on presenting a website that is most beneficial to all involved in self storage.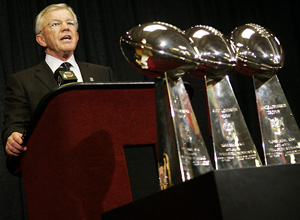 Joe Gibbs | Source
We look forward to meeting with new potential clients and making this the best trade show possible. The keynote speaker of the event is Mr. Motivation himself; former three-time National Football League Superbowl-winning head coach Joe Gibbs. Gibbs is a proven winner even though his return stint as head coach of the Washington Redskins (2004-2008) didn't go as he had hoped. Regardless, when the guy was in his prime (1981-1992), he won championships with three different starting quarterbacks: Doug Williams, Joe Theismann, and Mark Rypien. Gibbs walked away from football in the early '90s into the world of car racing—his other love. He's been a success in the world of National Association for Stock Car Auto Racing (NASCAR) as well; winning three team championships and creating the highly successful Joe Gibbs Racing team.
Maybe as a result of a terrific turnout at the conference, some inspiring words from coach/noted-author Gibbs, and a hopeful budding economy, we can all return to our perspective homes and help Charlotte become the largest banking center in the United States. Currently Charlotte is second to the city with two names (if I have to write that city name – just discontinue reading now). Many of you know that Charlotte is home to Bank of America; the largest bank holding company in the U.S. (in terms of assets), and the second largest bank by market capitalization. Hey, blogs can't be all fluff and no substance. It's cool to drop a little nugget here or there. Besides all reading should have a smidgen of worth. That's another reason to drop by USSelfStorageLocator.com for all your storage needs.