Running a self storage business and finding the time to keep up with social media postings can be difficult. There are literally dozens of social networking sites available and sometimes navigating through all of them can be a bit tiresome. This is why a social media content calendar is absolutely imperative. A content calendar can help you to plan your posts so that you have sufficient things to post daily. You can create a new content calendar every month. Here are some tips on successfully creating a content calendar and how to use it for social media initiatives:
Targeting audiences – If you take a look at the two most popular social networking sites – Facebook and Twitter, you will notice that the ability exists to target audiences and evaluate and assess trending topics. Combining the two gives a better view of who you are trying to reach. Once you know what your self storage customers are, what they like and the other brands they are following then you can use that information to create an editorial calendar to determine what kind of content to share and at which times and days.
Select important topics – Ask yourself about what subjects are important to your self storage business. Are you focused on communicating information about discounts, units or available extra services like moving trucks? These same things would be of interest to your audience. The content calendar can help to ensure that each topic is getting sufficient exposure and one aspect of your self storage business is not being highlighted more than another.
Organization – This is perhaps one of the most important uses of the content calendar – it helps to keep everything on track. If you have a lot of content to share, the calendar can help to make sure that things stay organized in your self storage business.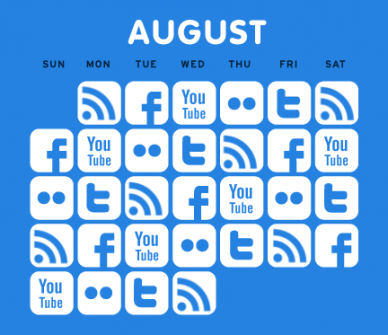 Prioritize – This ties in with the concept of organization. If you have a lot of things happening at once at your self storage facility, the editorial calendar helps you to figure out where to put it. For instance if you are having several self storage auctions and also running deals and discounts, then these things might appeal to different audiences. After all, someone searching for a bargain on self storage unit will have different needs than someone looking for an auction. The content calendar can help you to determine where your communication priorities are.
Analytics – If you usually produce monthly analytics to aid with assessing your social media efforts, then a content calendar can assist with this. With Facebook, you have often have to go back to the specific day of a post to get statistics on the number of people who saw the picture or status update and this can get a bit cumbersome. With a content calendar, you can make a note of engagement as you go along which will help to eliminate the need to sift through dozens of posts.
If you are maintaining several different social media profiles, a content calendar can create a blueprint for the creation of posts to help maintain consistency. You should always consider your self storage audience when deciding which channels to place your posts.