By: Jodi Reid
As technology has been rapidly evolving, the buzz in the world of business surrounding cloud computing has increased. This refers to using remote servers to store, manage and process data instead of local servers. You might be wondering what benefit, it any, this new technology has to your self storage business. After all, technology is only significant if it can add to your business' bottom-line and not simply because it is popular at the moment. The good news is cloud computing can allow you to deliver service to customers quickly and more cost-efficiently.
Cloud computing provides the ultimate performance upgrade for eliminating old and outdated business practices. Examples of cloud technology for small businesses include the online version of QuickBooks, email programs like Constant Contact and MailChimp, SurveyMonkey's voice of the customer-survey system, and social media sites. Other top, affordable cloud services are OfficeTime for productivity, Mindimo for project management and Salesforce for customer relationship management (CRM).
The low cost of cloud technology makes implementation easy. Since the services are based on the Internet and supplied according to demand, there is never the fear that you will be fronting the costs for something you don't need or utilize. Self storage vendors have invested in cloud computing to offer more cost-efficient solutions to operators. The absence of a large upfront investment gives self storage operators more flexibility in making changes to the business.
When looking for cloud computing solutions for your self storage business, there are certain features that should be present – the price should be competitive, it must be easy to implement and/or change, and require little support from you. Also ensure that adequate security measures are in place and your information is synced across all devices. When it comes to storing your self storage business data on the cloud, you can initially start with a small amount of storage space and then assess your needs.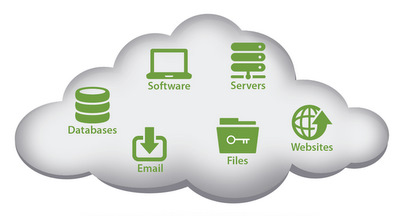 Cloud Technology
Storing and consuming data and accessing applications on the cloud, will allow you to serve customers in newer and better ways. Cloud computing gives you the opportunity to explore new services with little risk. Start small, test out a few applications and then, once you're ready, take on some of the bigger IT decisions such as moving your self storage customer database or email system to the cloud.