Pre-fabricated or manufactured homes have risen in popularity over the past few years. According to Construction Coverage, prefabricated homes have accounted for around 10 percent of new single-family homes since 2009. This number remains stead but, in certain parts of the county, people are trending more towards these factory-built options. This is in large part due to their affordability – the average price for one of these homes is less than half of a traditional single-family home. Considering buying a home for the first time or investing in one of these properties? There are other factors to consider other than price. Here's a look at what you can expect when purchasing a prefabricated home.
Affordability
These homes are so affordable that several states have been endorsing them as a solution to fix the homelessness crisis. As reported by the East Oregonion, Governor Kate Brown signed House Bill 2986 in January, which will provide $9.5 million to nonprofit corporations to develop manufactured homes to replace older, less insulated homes. A similar initiative is underway in Sacramento. According to the Sacramento Business Journal, The California City Council voted unanimously to create a $100 million fund over two years to start the construction of thousands of affordable housing units. When investing in a prefabricated home, you won't only be saving on initial costs. Heating and cooling costs will also be less than in a traditional home.
Reduced construction time
Unlike construction the typical home, a prefab home come partly constructed and only requires assembly. This greatly reduces the amount of labor hours required to get the job done. It also involves dealing with less contractors and sub-contractors, which can add to the overall time spent on the project. There is less of a likelihood of weather issues delaying the building process. On the flip side of this, there is a longer move-in time. With a traditional home, you can move in once you pay for it or the loan is finalized with the bank. However, with prefabricated homes, even though construction can be completed in a matter of months, you won't be able to move in until everything is finished.
Energy efficiency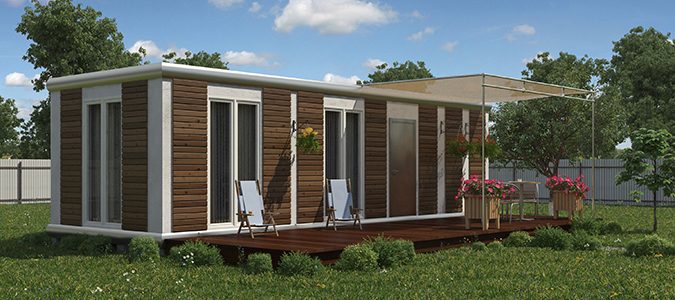 According to New Home Source, the energy efficiency in these homes comes built in. Most of these houses are Energy Star Certified Manufactured Homes, which means that they are backed by the government and must meet very struct EPA and HUD standards to qualify. The way they are built means that they will guarantee energy savings over the long run. The temperature consistency between rooms will ensure that the home is optimally comfortable.
Land costs
Unlike traditional homes, you will need to own the land. In some cases, this cost may equal or exceed the price for the home. You should also take note that note every piece of land will be compatible with a prefabricated home. It is advisable to do research beforehand to ensure the necessary utility hookups will be available. Costs for the necessary inspections and permits will add up over time so keep these in mind when considering potential savings.
More upfront costs
The associated constructions costs are due before you move in. With a regular mortgage on a typical house, it is possible to make a down payment and then pay the balance over time. There are numerous financing and loan options available for prefabricated homes but these include a schedule with installments that need to be paid while the home is being built. These costs mean that you need to be extra sure about your finances ahead of time. Factor in your housing expenses while you are waiting for the construction of your manufactured home to determine whether or not it will be a good financial fit. One upside to these costs is that you end up saving on interest in the long run.
Now that you know what to expect from a prefabricated home, you'll probably be curious about the different types that are available and the best option for you. The one you choose will ultimately depend on the needs of yourself and family. Design and size are also important to keep in mind. Aniwaa has a handy list of the types of prefabricated homes you can expect to find:
Modular homes – These are built in a factory and pieced together at the final location. They typically require slightly more work but there are lots of options to choose from.
Panelized homes – The shell of the home is factory-built and the rest of the process is completed on site by contractors. These are all built to code and at a minimum contain floors, walls and trusses.
Shipping container homes – These are so available that they are even for sale on Amazon. However, they are not known for their accessibility or comfortability but have a variety of interior design options.
Tiny homes – Pre-built but much smaller than the average home, these miniature options are both stylish and popular enough to have entire TV shows dedicated to them. Majority of them are under 400 square feet but are still surprisingly big enough to fit various amenities.
Kit houses – These can be built anywhere and come shopping to your doorstep where it can be assembled by a contractor.
If you are still on the fence about what exactly constructing a home like this would take, then take advantage of available resources to get more informed about the process before making a decision. For example, The National Association of Home Builders has a helpful section dedicated to prefabricated homes with detailed guides on exactly how they are built from start to finish. The National Modular Housing Council gives buyers key information on asking the right questions of builders before construction begins. With rising house prices and limited space, the prefabricated home market is expected to see continuous growth so it is an excellent time to start the research process. Check out our helpful moving guide and tips for whenever you decide to take the leap into purchasing a prefabricated home.