Safety, #1 Back to School Tool
Summer is almost over, which mean soon it is back to school for millions of children. Parents will begin shopping for the necessary things their children will need, some will start during the tax free periods that some states such as the State of Florida offers. Many parents will stock up on uniforms, back packs, lunch boxes and the various tools children need: pens, paper, erasers and other school supplies. All necessary for a successful school year, but many will overlook something very important, maybe the most important thing of all: Safety!
Just like children need the proper tools: paper, notebooks, pencils and calculators etc. They need the proper tools-knowledge to stay safe. Whether going to and from school, at school or at home after school, children of all ages need to know or be reminded on how to stay and keep themselves safe.
The first thing parents should do is talk to your children about safety. The age and maturity of the child matters, so adjust your conversation accordingly but always let them know that their safety is the most important thing to you. Stress the importance that your child can talk to you about anything and that you will listen even if you don't like what they say. This is a great opportunity to find out things your child likes or doesn't like as well as better familiar yourself with your child's daily activities.
Preparing your child to be safe involves teaching, practicing and giving them what they need to be safe.
Their name, address, parents name and phone numbers and have them memorize it.
How to use the phone to call parents and importantly to dial 9-1-1!
Who to call & what to do in the event of an emergency and you are not available.
What their neighborhood boundaries are and what they can and cannot do at home.
Safety rules for the road and crossing streets.
About their neighborhood and which neighbors are trustworthy.
The route to and from school if walking or riding their bikes.
To always wear bicycle helmets and how to put them on by themselves.
To always inform parents or trusted adult where they are going or when plans change.
To use the buddy system and never go places alone.
That adult should not ask children for help or directions and that it might be a trick.
It's okay to say "No" and to trust their instincts.
Fire or evacuation procedures.
When home alone to never answer the door, to take messages and not let callers know they are home alone.
To make sure home is okay before entering.
Practice with children:
Their name, address, parents name and phone numbers.
How to walk to school and cross streets.
Dialing important phone numbers and 9-1-1 (but on a play phone)
Dealing with strangers.
Evacuation procedures.
Taking messages from callers.
To check home that it is safe and to lock up.
To prepare easy snacks without using stove or other harmful appliances.
What to do in the event of an emergency.
Different scenarios and how to be safe in each one.
Make sure children have:
Bicycle helmets and other safety equipment.
Trusted adult contact information.
Phone available at home to contact parents and/or call for help
Clothing, backpacks and lunch boxes free from visible names.
Clothing without drawstrings around the neck that can get caught on obstacles.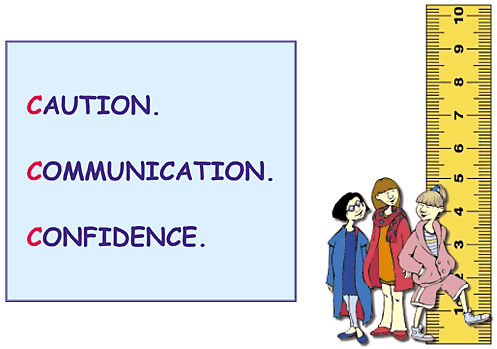 What to do in an Emergency
Information to collect and numbers to call:
Precautionary Measures: Necessary Materials
Keep a complete description/updated pictures of your child. Tip: Save on your phone.
Keep copies of your child's fingerprints and/or sample of child's DNA.
Know where your child's medical records are located.
Have your dentist prepare and maintain dental charts for your child.
What you should do in Case Your Child is Missing:
Immediately report your child missing to local law enforcement agencies.
Ask the law enforcement agency to enter your child into the National Crime Information Center (NCIS) Missing Persons File.
Limit access to your home until law enforcement arrives and has the opportunity to collect possible evidence.
Give law enforcement investigators all information you have on your child including fingerprints, photographs, complete description and the facts and circumstances related to the disappearance.
Of course, as parents we hope to God that we never have to be in this situation. But sadly, according to the US Department of Justice an average of 2185 children are reported missing each day. According to the CDC, more than 9000 children die from injuries, most of which are preventable. Therefore, as parents we need to prepare our children and equip them with the necessary tools so they can be safe when we are not around. Safety IS the #1 back to school tool, make sure your child is equipped.