Summer is quickly flying by. A wonderful 4th of July has come and passed. It is less than 7 weeks before two of our daughters will be heading back to their colleges. Our family like many others would like to take a vacation. But where to go was a topic of a recent dinner conversation. As we chatted excitedly about possible theme parks, this destination or that, cruise or no cruise and what dates would work given two of the girls are taking summer classes while home. No one could agree. Of course like others, time and finances are limited, especially with 5 children ages 19-24 wanting to go on vacation.
The conversation soon turned to reminiscing about past vacations, bringing up all kinds of fond memories. We quickly realized we didn't need to go far or spend a lot of money to have a great getaway. As it seems, one of the most memorable trips was a trip to the Florida Keys. Although worlds away from the hustle and bustle of Miami and Fort Lauderdale, the Florida Keys are less than a 2 hour drive from our home.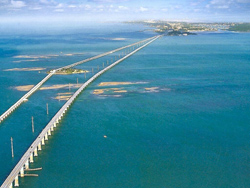 7th mile bridge in the Florida Keys
The Florida Keys offers many, many things to do that are affordable and fun. Some of the things we did didn't cost anything at all. We chatted about the things we loved on each island as we worked our way to Key West.
In Key Largo, we love to visit the saltwater aquarium at John Pennenkamp State Park. If we have time, a snorkel trip among the reefs and to see the statue of Jesus also part of John Pennenkamp State Park. One year we visited the African Queen River Boat that was the star of a movie of the same name starring Humphrey Bogart and Kathryn Hepburn. My son was especially interested as he was studying older movies as part of this performing arts class. The Queen wasn't running back then, just there in the canal by the Key Largo Holiday Inn. But we've learned this past May the Queen was restored and once again operating. We might just have to add this to our list of things to do.
As we make our way south, we stop for a short visit to the Florida Keys Wild Bird Rehabilitation Center in Tavernier. Although not really an attraction, the kids always love to see the different types of birds in this tropical paradise. The Bird Center works off of donations, so the trip is beneficial to both parties.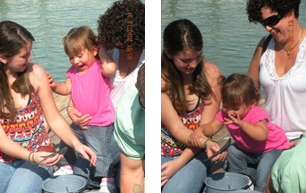 feeding the tarpon fish
Continuing south next would be a stop at Robbie's of Islamorada get ice cream and feed the tarpon fish. We laughed in hysterics as we remembered my son feeding them while lying down on the dock and his reaction when the fish almost took his hand off. I don't think we have ever seen him move as fast. Or the time we tried to get my 2 year old granddaughter to feed the tarpon and she wasn't having it. The faces she made were priceless.
Timing is everything, so as you make your way down to Key West passing through Big Pine Key, be sure to turn right at Key Deer Boulevard to stop by the Blue Hole and to head down to No Name Key to see the endangered Florida Key Deer. The best time to see the Key Deer is early morning or at dusk, where you will see them wandering around looking for food. But don't feed them; just watch them as they are. While you are on No Name Key, drive around the neighborhood as the residents have quirky names for their homes. Their homes which interestedly enough back then didn't have public electricity and therefore had to use either generator or solar power.
Key West is not too much further south. Once you get there you will find an abundance of things to do. In years past, we have visited the Lighthouse, Ernest Hemingway's home, Fort Zachary Taylor, Butterfly Conservatory, Shipwreck Museum and a fast cat boat ride to the Dry Tortugas. But our favorite thing to do is to just walk around to see the flavor of the Keys. We have our routine. First we head down Duval Street to get our picture taken at the Southernmost Point. Next we find a parking space near Mallory Square and head to Kino Sandal Factory to watch them make their world famous sandals and of course to make a purchase of our own. We love walking along the water front and a quick bite at Bo's Fish Wagon. Now Bo's Fish Wagon is traditional Keys: quaint and eclectic and almost looks like something out of a junk yard. But the food is inexpensive and tasty.
Now if you happen to be down in Key West near sunset, you must head to Mallory Square for the daily Sunset Celebration. No trip to Key West is complete unless you take part in this celebration. As you head into Mallory Square you will pass the Key West Historic Memorial Sculpture Garden featuring 36 sculptures of those who influenced Key West, a neat little walk of history. Be sure to be in the square 2 hours before sunset when the celebration begins. And a celebration it is; complete with street performers, crafters and food vendors and of course the most spectacular sunsets ever. Of the dozen or so times that we have been, the celebration has never been the same and the kids still love it even now. We have seen jugglers, acrobatic acts, contortionists and incredible escape artists. The performances are funny as they are entertaining. Bring plenty of single dollar bills as the performers work for tips. It is well worth it and should be your cheapest entertainment by far.
So as dinner ends, we wrap up our plans just as a TV commercial for the Florida Keys comes on saying, "It's a great time to come down and explore, the crowds are gone and the prices are right" and that's where we will be heading come August. Maybe we'll see you there!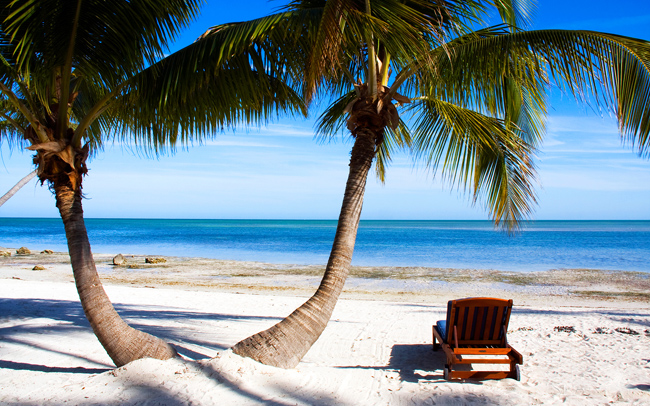 Relaxing in the Florida Keys
-----------------------------------------------------------------------------------